Introducing Mr Filbert's to DIFG: Snacks Beyond Expectation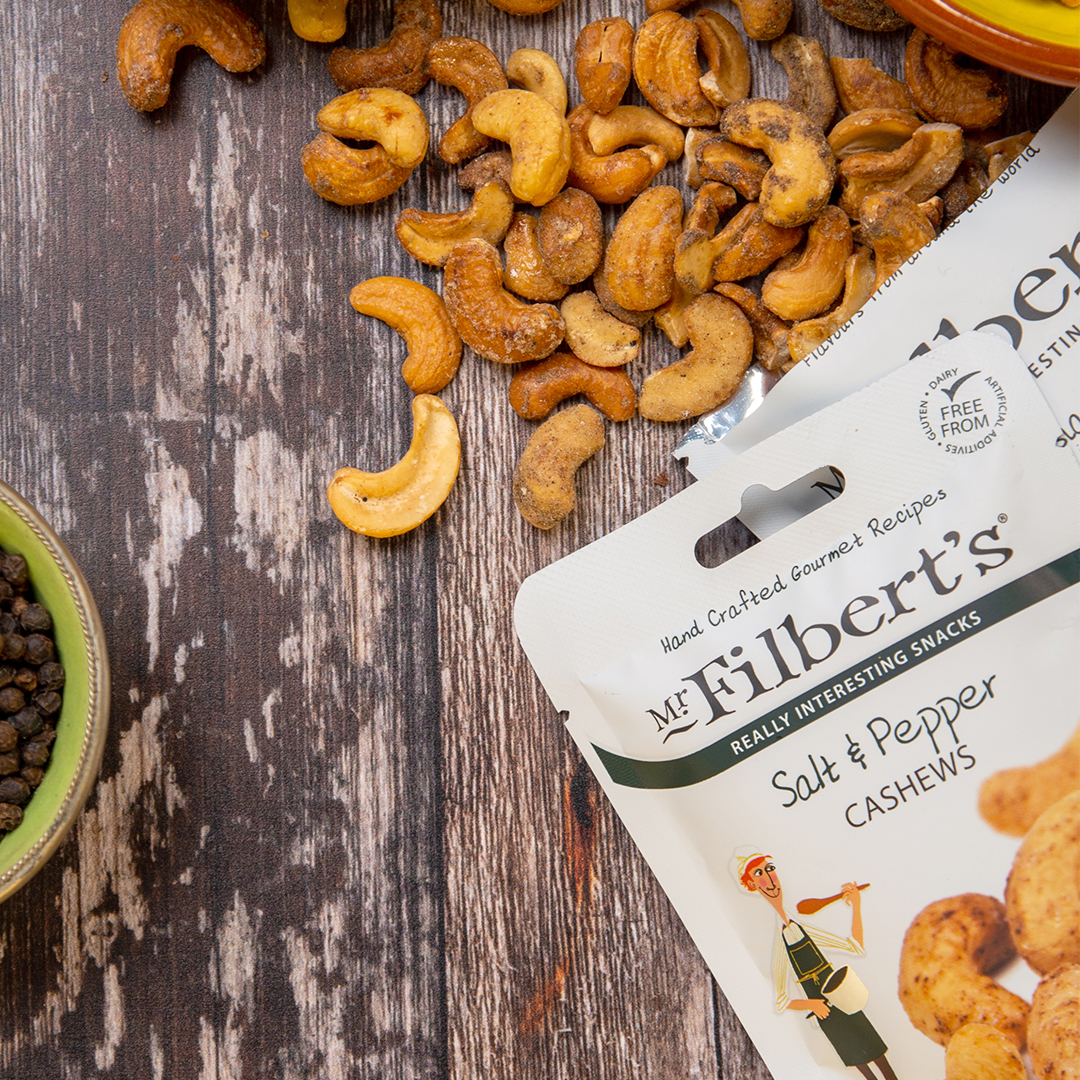 Delicious Ideas Food Group are excited to introduce Mr Filbert's range of roasted nuts to our growing product portfolio. Discover why these snacks are perfect for many businesses, particularly hotels, pubs, and more!
Introducing Mr Filbert's range of Roasted Nuts by Samantha Chinnock, National Account Manager
"We believe that life is better with a dash of delicious! That's why we carefully craft all our artisanal snacks by hand in the heart of Somerset, using only the most exceptional ingredients and flavour combinations possible."
For the Epicurious in search of exciting and high-quality snacks but bored in a sea of sameness, Mr Filberts is here to offer delicious snacks that go beyond expectation!
Exceptional quality
Strikingly delicious
Totally natural
Filbert's Fine Foods was established and launched in July 2010 by a small group of food enthusiasts, who between them, have over 40 years experience in the food business. Their inspiring and truly creative fine food brand continues to set the market alight with some quirky and inventive recipe creations, becoming listed in leading multiple retailers, hospitality groups and travel foodservice companies.
Why Mr Filbert's Roasted Nuts are 'Snacks Beyond Expectation'
Working from their AA BRC accredited kitchens in Glastonbury, Somerset, the Filbert's team have hand-crafted a range of distinctive award winning products under the Mr Filbert's brand name. Each inventive snack is created by oven roasting (not frying) the varieties of nuts in Mr Filbert's very own customised nut roaster, to give what is described as a superior and healthier snack offering. The nuts are then tossed and tumbled with the distinctive combination of ingredients that reflect our creative recipes from around the world.
Why Your Hotel or Pub should Stock Mr Filbert's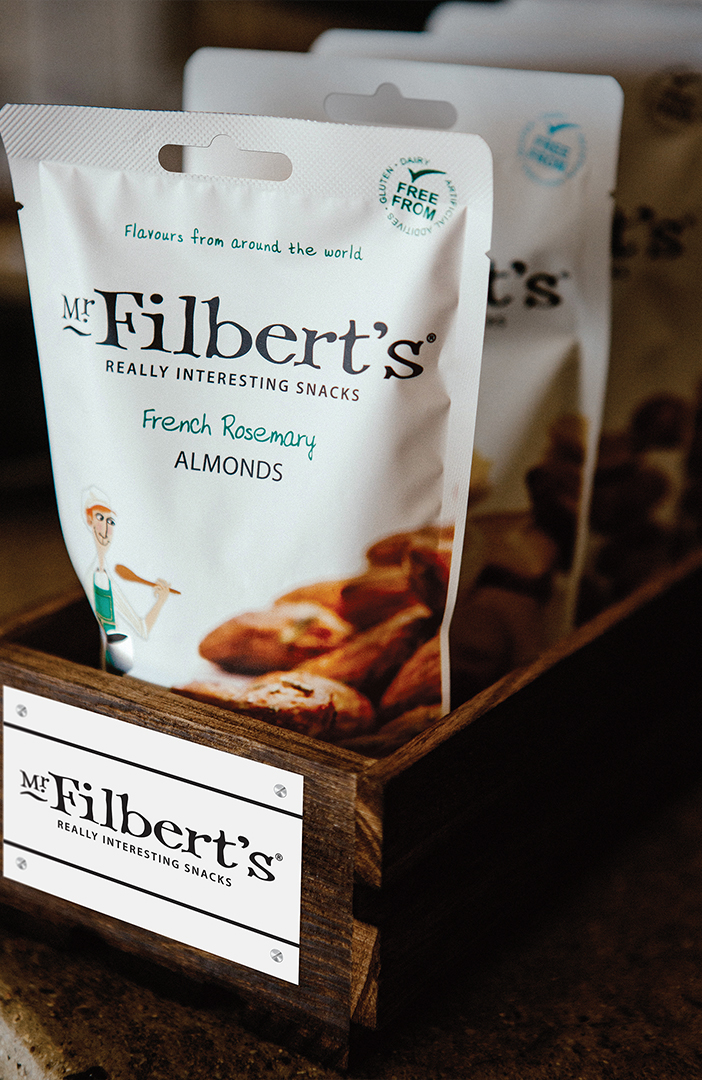 So why sell Mr Filberts snacks? Well, there are a few very good reasons;
Naturally Delicious – they look to nature to inspire their better for you snacks and almost all of their products are 100% Natural, free from gluten, diary, artificial flavours, colours and preservatives and suitable for vegan diets.
Plant Based – they have a wide variety of plant-based snacks that are high in natural goodness, perfect for vegetarians and vegans.
Full of Fabulous Flavour – All of our snacks boast unique ingredients and flavour combinations from around the world.
Sustainability – We love the natural world and are constantly striving to reduce our impact, 2022 will see the launch of a 100% recyclable range.
45 Taste Awards – with over 45 taste awards Mr Filbert's recipes show that they are committed to achieving only the highest standards of quality and flavour.
Point Of Sale – Mr Filberts have products for all styles and sizes of establishments, from loose serve catering bags through to their 40g snack packs. Alongside their snacks Mr Filberts can supply eye catching POS to make their recipes stand out and catch your customer's eye!
Impress your Customers with Powerful Flavours and Expert Branding
Whether it is with the theatre of serving your customers with the Glass Kilner Jars, branded serving glasses and scoops or the branded wooden display crates that can all be provided free of charge, Mr Filbert's can upgrade your snacking range and increase your sales.
They are a fast-growing snack brand within the UK market, supplying over 1000 pubs and hotels and offering their customers their award-winning products with fantastic brand backing and marketing support.
But if you would prefer to read the opinion of a food critic, here is what Tony Turnbull, Food Editor at The Times, wrote about Mr Filbert's snacks;
"For nuts, you can't find better than Mr Filbert's. It focuses on treating the best quality nuts as simply as possible (the dry-roasted ones, for example, contain no colourings or preservatives and the classic mixed nuts are smoked for five hours over applewood, to complement rather than mask the flavours). Its specials include mixed nuts infused with (real) black truffle", "with which I could happily, as Kerridge says, "spoil my tea"".
How To Stock up on Mr Filbert's Today
Delicious Ideas Food Group supply snacks, confectionery and beverages including Mr Filberts to thousands of sites around the UK. If you are a hotel, pub, café, co-working space, deli, farm shop or more, set up an account here and get wholesale deliciousness delivered to your site today!
If you have any questions or just want to find out a bit more about our service, get in touch with a member of our sales team today on 01733 239003.
View the Full Product range available with DIFG Below