Eat Real meet DIFG: HFSS compliant snacks 💚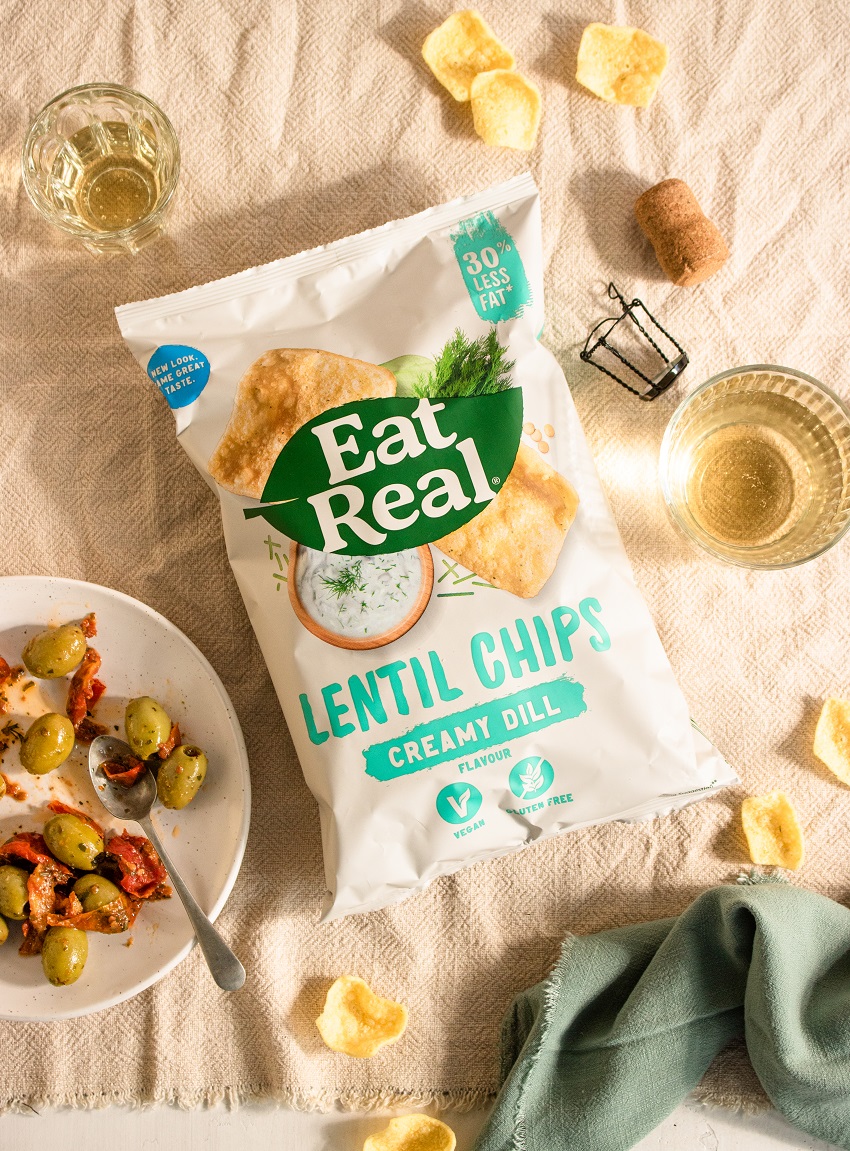 Eat Real Snacks are on-hand to shake up every vending machine, hotel lobby & shop display with its range of satisfyingly crunchy snacks, drenched in unexpected flavour combinations.
Big and bold flavour combinations: Pip O'Neill, Marketing Executive at Eat Real
Inspired by your favourite deli treats, we celebrate big and bold flavour combinations across the Lentil, Quinoa and Hummus ranges. From Tomato & Basil, Chilli and Lemon and Sour Cream and Chive – snack time just got interesting.
With a healthy appetite and a taste for flavour, we have unearthed delicious flavour combinations which are not only unique but are vegan, gluten-free, and free from artificial colours, flavours, and ingredients. Plus, the Hummus and Lentil ranges contain 30% less fat than regular potato chips.
Your customers' favourite snack just got a new look: Pip O'Neill, Marketing Executive at Eat Real
With the same great flavours safely wrapped inside, our snacks now come in fresh, bright new packs that look just as good as they taste. Keeping its pioneering roots at the forefront, the new design highlights both its delicious flavour combinations and better-for-you credentials.
HFSS compliant product available: Pip O'Neill, Marketing Executive at Eat Real
The rebrand coincides with the redevelopment of the Hummus Chips Range, in which three of its flavours available with DIFG, Hummus Tomato & Basil, Hummus Salted & Hummus Sour Cream & Chive are now HFSS compliant thanks to a reduction of its salt content.
Hummus Tomato and Basil Chips: A creamy chickpea base with a sweet tomato profile followed by a hit of basil.
Lentil Chips, Chilli & Lemon Chips: The perfect balance of a velvety lentil base, notes of dry, zesty chilli and sweet fragrant lemon.
Quinoa Sour Cream and Chive Chips: A deliciously crispy base made from quinoa flour, with a sweet, rounded profile and zingy chives.
So, whilst we pore over every grain, every pinch and every chip, your customers can enjoy snacks you can't help but relish, year-round.
Delicious Ideas Food Group supply snacks, confectionery and beverages including Eat Real to thousands of sites around the UK. If you are a hotel, pub, café, co-working space, deli, farm shop or more, set up an account here and get wholesale deliciousness delivered to your site today! If you have any questions or just want to find out a bit more about our service, get in touch with a member of our sales team today on 01733 239003.