DIFG meet H!P: James Cadbury's great tasting vegan chocolate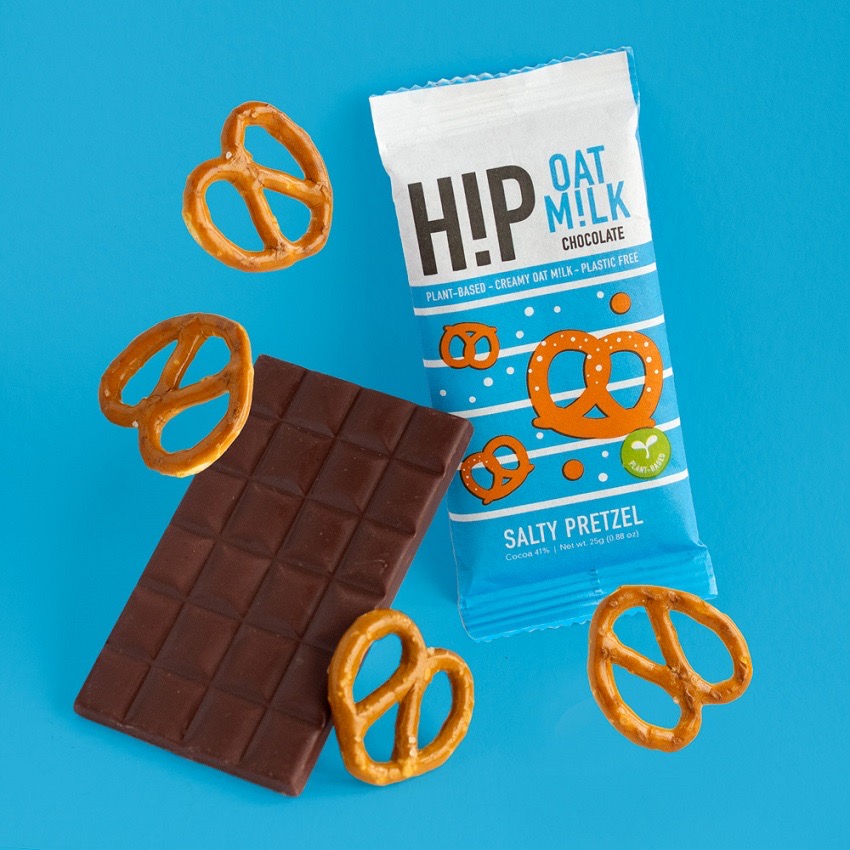 H!P (Happiness in Plants) launched in early 2021, with the aim of bringing great tasting, dairy-free chocolate to the masses. H!P blends only the best quality Colombian cacao and oat milk to produce deliciously creamy vegan chocolate in contemporary flavours and standout packaging.
James Cadbury launches H!P chocolate: Ursula Runacres, Senior Marketing Manager at H!P
H!P was set up by James Cadbury, the great great great-grandson of John Cadbury, inventor of the original Dairy Milk bar, so naturally he  grew up surrounded by the world of chocolate.
Following an initial career in the city, shortly after James turned 30, he decided to return to his original family routes, and set up Love Cocoa in 2016 and later H!P Chocolate in 2021.
Launching H!P Chocolate was spurred on by a few different factors. As an office a couple of years ago we fully switched to exclusively drinking oat milk; this was then coupled by visiting the ISM trade show in Germany, the world's largest confectionery show, where Love Cocoa was exhibiting and walking around and reviewing the vegan chocolate on offer. The whole vegan offering was simply dark chocolate, which is more of an accidentally vegan product, rather than a suitable replacement for the creamy, milk chocolate we all know and love.
Spotting a gap in the vegan milk chocolate market: Ursula Runacres, Senior Marketing Manager at H!P
After researching vegan milk chocolate he found that the ones that were on the market didn't replicate the mouthfeel of dairy chocolate, were made with low-quality ingredients and just didn't replace the dairy nature of chocolate effectively. So, he decided to change that and create H!P.
We launched in early 2021 with 4 core flavours: Creamy and Smooth, Salted Caramel, Salty Pretzel and Cookies No Cream. Following 3 sell out limited edition products, we added Salted Honeycomb to our range, before in early 2022 launching our new mini 25g bars. They make the perfect addition to cafes, offices, hotels and more.
Sourcing, sustainability and why do we use oat m!lk in our bars? Ursula Runacres, Senior Marketing Manager at H!P
Firstly using oat m!lk in our bars means our bars are seriously delicious, which is of course the most important factor! When we were creating H!P, we wanted to create something that offers a super creamy texture, and oat m!lk offered us this super creamy mouth-feel that other alternative milks simply can't provide. We've always wanted to create a bar that can be enjoyed by vegans and non-vegans alike, and using oat m!lk
As a brand, sustainability is super important to us – we're a fully plastic-free brand, all our bars are wrapped in wood-pulp which is home compostable and biodegradable, and the use of oat m!lk in our bars means that we are able to massively reduce our carbon output. All our H!P bars have on average 51% less carbon output than dairy chocolate, meaning that not only do our bars taste better, they also do better.
At H!P Chocolate, we take great care in sourcing our cocoa, not just ensuring we are selecting the best tasting chocolate, but also making sure it is sourced in the most sustainable way. We work with suppliers who guarantee cocoa farmers higher than the market price. Their integrated production value chain means directly trading with farmers, so there are no middlemen, resulting in fairer prices for the producers. They go further by working with farmers to improve the way they harvest their crop, from ensuring trees are replanted to monitoring the way the beans are fermented, ensuring the full aromas of chocolate are discovered.
How To Stock up on H!P today
Delicious Ideas Food Group supply snacks, confectionery and beverages including H!P to thousands of sites around the UK. If you are a hotel, pub, café, co-working space, deli, farm shop or more, set up an account here and get wholesale deliciousness delivered to your site today!
If you have any questions or just want to find out a bit more about our service, get in touch with a member of our sales team today on 01733 239003.