DIFG meet Island Bakery: Certified Organic Biscuits!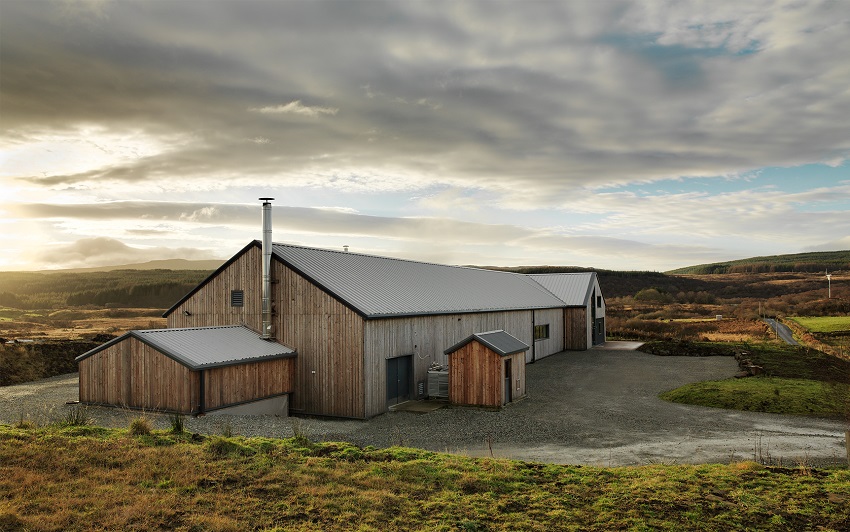 DIFG meet co-founders Joe and Dawn Reade at Island Bakery who, since 1994 have ran a bakery on the Isle of Mull off the West Coast of Scotland.
Creating an Island Bakery: Joe and Dawn Reade, Co-founders at Island Bakery
Island Bakery first began as a bread bakery in 1994, when recently graduated Joe Reade and his girlfriend, Dawn set up business in Joe's brother's garage in Tobermory on the Scottish Isle of Mull. Over the subsequent years Island Bakery evolved to a fully stocked bakery and delicatessen shop on Tobermory's harbour colourful front.
Overcoming seasonal challenges on the Isle of Mull: Joe and Dawn Reade, Co-founders at Island Bakery
Business was going well, but the main challenge was the seasonality of trade. Tobermory's hectic summer tourist season contrasted with the relatively sleepy wintertime when it was hard to support staff.
We wanted to do something that could balance out the seasonal fluctuations, and we thought that the best way to do that would be to launch a new baked product that could travel off the island and that would have a long enough shelf life to reach customers beyond our island base.
Some of our early achievements: Joe and Dawn Reade, Co-founders at Island Bakery
In 2001 we began to make a small range of organic sweet biscuits which soon won several Great Taste awards. The chocolate Gingers scooped an Organic Food award, while Lemon Melts were quickly established as the customers' favourite and best seller.
What it means to be a certified organic producer: Joe and Dawn Reade, Co-founders at Island Bakery
As a certified organic producer, all of our ingredients are fully traceable back to the farms they come from. Organic production is important to us as it ensures high quality food, no genetically modified ingredients, no pesticides or artificial fertiliser residues, no routine use of antibiotics, and high standards of animal welfare. Food produced organically is less intensively produced and it also contributes to a richer diversity in farm ecosystems.
Being organic is just one element of the company ethos of being as environmentally sensitive as possible. Despite most of the ingredients for our biscuits not being available on Mull, there are other natural resources here that we can harness in our production. Being on a west coast island assures us of a reasonably steady supply of wet and windy weather.
Moving to renewable sources of energy in 2012: Joe and Dawn Reade, Co-founders at Island Bakery
In 2012 we moved out of our garage premises into a purpose-built new factory just along the road from our original garage premises. We took advantage of several sources of local, renewable energy to power operations. Our ovens are fuelled by local timber, while electricity comes from both wind and hydro-electricity generated on the neighbouring dairy farm owned by Joe's brothers.
Our wood fuelled ovens are unique in the UK. We use locally grown wood to fuel a biomass boiler that is the heart of the business. The heat is transferred to a closed loop of thermal oil which radiates the heat into the oven where the biscuits are baked. This gives our biscuits a slow bake which improves their texture.
The ingredients in our great tasting biscuits: Joe and Dawn Reade, Co-founders at Island Bakery
Of course, the ingredients we use also makes a big difference. Island Bakery recipes are formulated without any artificial colours, preservatives, or flavourings because making things with traditional ingredients and methods make them taste a lot better! At the end of the day, making the biscuits taste good is what it is all about.
Delicious Ideas supply the following varieties:
Chocolate Gingers are the connoisseur's choice. It is no surprise that the biscuit cognoscenti are attracted to the generous chunk of moist stem ginger peeking out from beneath dark chocolate drapery, nestling on a subtly spiced ginger biscuit. And who wouldn't be?
Shortbread. The ingredients list is short and sweet, just like these shortbread biscuits. Our bakers skilfully blend just 4 basic ingredients to strike the right balance of crunch, sweetness and the rich butter taste you get from an all-butter recipe. Less is more when it comes to shortbread.
Lemon Melts. Without a doubt, Lemon Melts are our most popular creation. One taste and you will discover why. The zesty lemon biscuit is the perfect foil for the rich sweet blanket of white chocolate, and the melt in the mouth texture adds to the joy. – Coming Soon!
Sweet FA Gluten Free Double Choc Chip Cookies Sweet FA is a new organic, vegan and gluten free brand made at Island Bakery after Fiona Aitali, our baker, was diagnosed as Coeliac. She has developed fantastic cookie recipes that taste good even if you don't need a free from diet. The Double Choc Chip Cookies deliver a super chocolatey hit! – Coming Soon!
Delicious Ideas Food Group supply snacks, confectionery and beverages including Island Bakery to thousands of sites around the UK. If you are a hotel, pub, café, co-working space, deli, farm shop or more, set up an account here and get wholesale deliciousness delivered to your site today! If you have any questions or just want to find out a bit more about our service, get in touch with a member of our sales team today on 01733 239003.