Hamper-sized happiness arrives at Peterborough's NHS frontline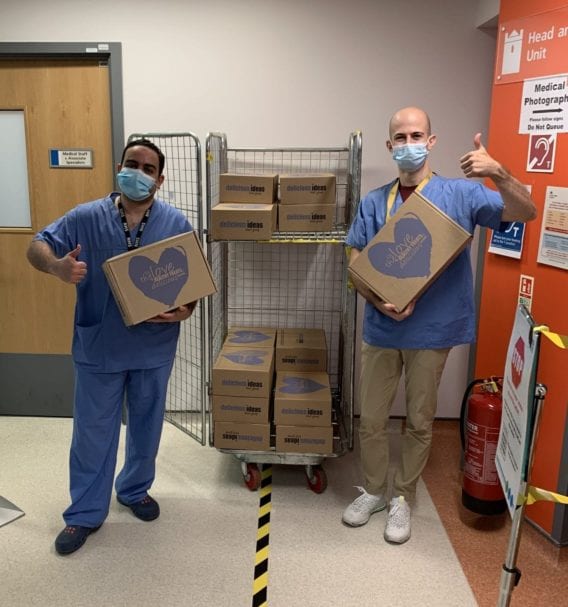 Masked ENT workers at Peterborough Hospital and head consultant Mr Amen receive their surprise Delicious Deliveries Hampers
Long before COVID-19 struck, Mike Parkinson, Director of Travel at fintech company, Trustly, received outstanding care at the hands of Peterborough Hospital's Ear Nose and Throat (ENT) Team.
Supporting the ones who gave support
Knowing that the people who had cared for him had become frontline workers in the pandemic, Mike and his company decided to do something to thank them.
"Four years ago, I was in critical care being treated for a throat abscess," Mike said. "The consultant, Mr Furrat Amen, and his team were fantastic. When Trustly decided to set up an initiative to support the frontline NHS workers fighting COVID, it included the team that had looked after me."
Teaming up to spread the love
Initially, Trustly began by sending items such as food parcels and pizzas. "Then we came across Delicious Ideas, another Peterborough-based company that had also been donating food—boxes of snacks—to frontline workers. I discovered that they also made these great snack hampers that I thought would go down well with the hospital staff, and organised a consignment of these to be sent to the ENT staff at Peterborough."
Mr Amen said upon receiving the donation: "It was a real surprise to get so many boxes of marvellous treats for the ENT team. I'm not sure what we did to deserve such delights, but we are extremely grateful. It was a thoughtful present which has helped lift our spirits during these difficult times."
Ben Potter, who works in operations and sales at Delicious Ideas said, "For anybody who wants to say thank you to one or more people in a way that's different, the new range of themed Delicious Deliveries Hampers are an ideal alternative to things like flowers, chocolates and wine bottles. They're fun, quirky, and great for sharing."
Say thanks to the people who matter
Can you think of anyone you want to give a big THANK YOU to, but aren't sure how? Are you an employer or HR consultant who thinks there's no better time to show your people how much you care? Then why not get in touch with us today and let us help you organise that gift they'll remember you for?