The story behind Olly's and becoming W-Olly Wonka!
Olly's are a team of snack creators that are on a mission to feed the planet's feel good through their range of outrageously delicious snacks. They keep help at the heart of all their creations, but ultimately for them, it's all about delivering unbeatable flavour experiences that bring a smile to people's faces.
They're a family run and owned business, with a dynamite team that now includes both Olly's Brother & Sister.
How the Olly's story began and the secret behind the Fam-Olly: Olly Hiscocks, Founder at Olly's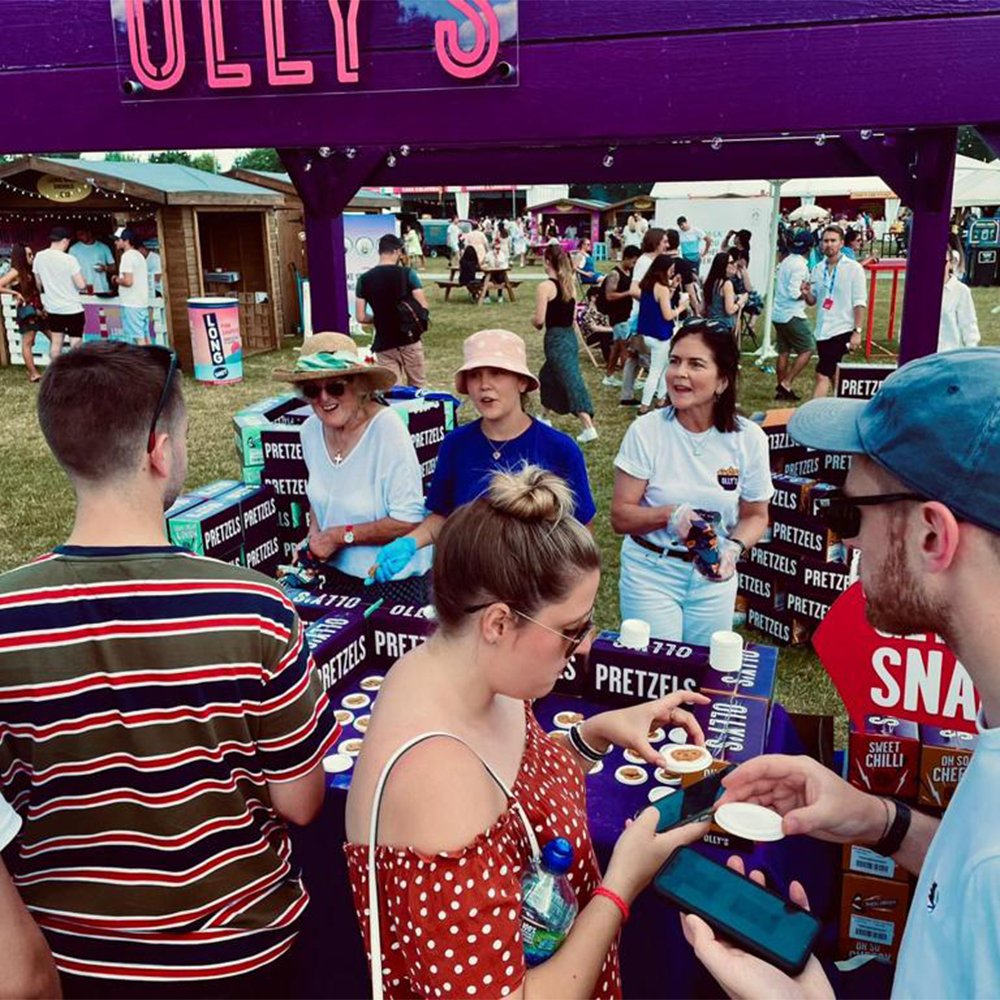 I was always a massive snacker growing up (to my parent's dismay!) and exploring what was in the snack tins was always a source of excitement for both me & my siblings. As I grew older, I remained very in touch with how the snacks on offer were developing and what new trends were landing on the shelves, and grew increasingly intrigued by the new challenger brands that were taking on the aged & lacklustre "big boys".
For me, my passion & my first opportunity was in olives. I was a young, optimistic olive lover who wanted to rejuvenate the world of olives with new flavours, colour and character. I began marinating olives in my kitchen (to my parents' dismay again) and selling them at farmers markets. People loved them, in fact they loved them so much, so that I decided to pivot away from my path to becoming a doctor and focus on developing the planet's access to the highest quality olives.
My brother Sam, and close friend, Yingdee, decided to join forces with me to kick-off the journey, taking control of the marketing and the operations respectfully. And so, as the three snacking muskateers, we officially set sail on the HMS Olly's Olives!
I'm incredibly proud of our amazing team which has grown to a tantalising 10 now, and also includes my Sister, Ella! Even my Mum, Dad & Grannies come down to help out our shows.
How the Olly's snack range developed over time: Olly Hiscocks, Founder at Olly's
In 2016, launched our first ever mouthwatering marinated olive snack pouches (Garlic & Basil, Chilli & Rosemary and Lemon & Thyme) and across the next 3 years we continued on our mission to bring smiles to as many faces as possible with our olives, and we did just that, landing stockists across the UK and internationally.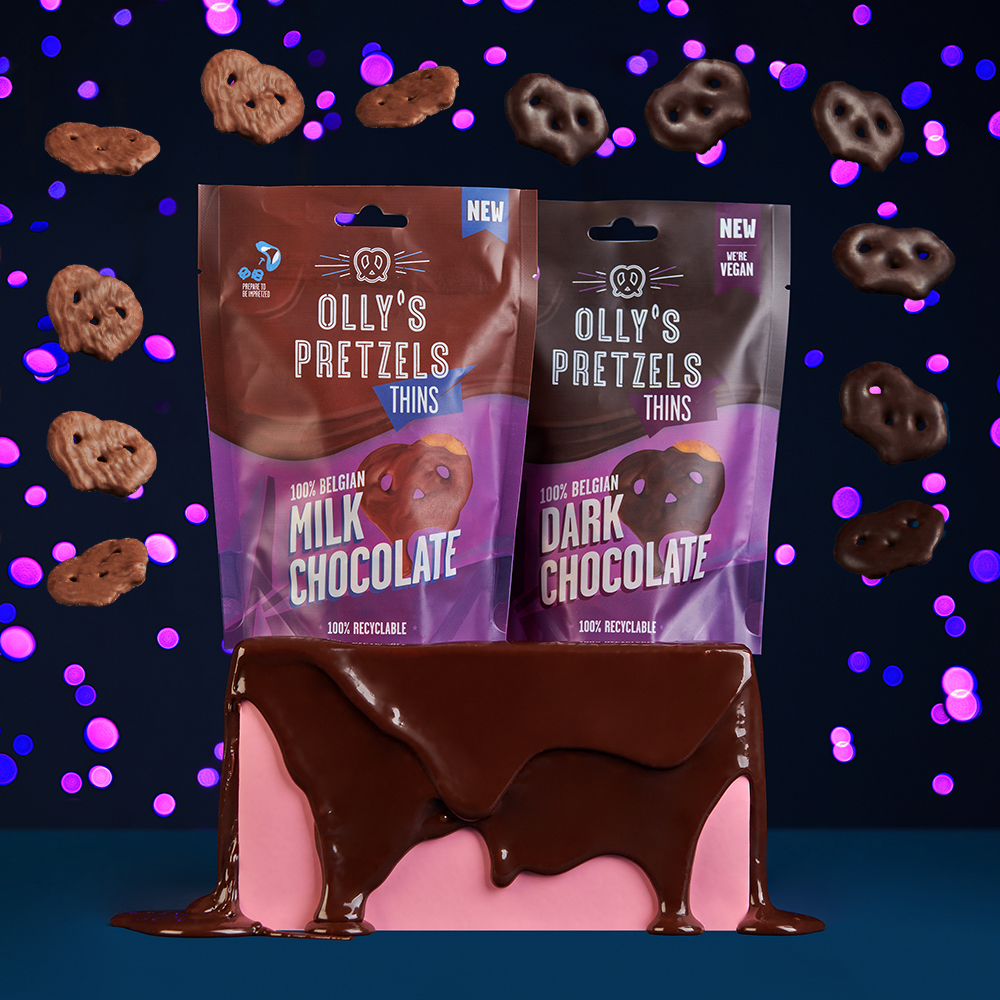 Our garlic & basil olives were even the official olive on a number of airlines!
Then of course, the dreaded COVID struck and loads of our glorious stockists were unable to continue utilising our delicious olives, leaving us in a very sticky situation. A couple of tears and a couple of beers later, we decided… "LET'S JUST LAUNCH MORE SNACKS!!"
Across the following 18 months our range of snacks grew from 3 to 14, with the birth of our nut mixes, pretzel thins and chocolate covered pretzel thins! And… we even launched a beer, BECAUSE WHY NOT?! And we evolved from Olly's Olives to OLLY'S!
I've been so overwhelmed with the development of our snacks, especially of the chocolate covered pretzel thins and pretzel thins, which have both gone on to become the superstar Olly's snack of choice since then!
And with the marketing team now coining me as "W-Olly Wonka", and with our chocolate pretzel thins being regarded as the greatest in all the lands, it was time for "W-Olly" to get his own production facility.
W-Olly Wonka gets his own factory!!! Olly Hiscocks, Founder at Olly's
To make sure the sensational supply continued to meet the overwhelming demand, at the start of 2022 we invested in our own factory and had another 4 master chocolatiers join our production team.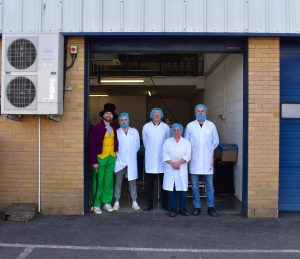 This facility is a magical new Olly's wonderland that can pump out chocolate pretzels at a much higher rate and an even higher quality. We also now have much more creative license over limited edition flavours and new product development. Sam, our head of marketing, is constantly trying to get me chocolate coated. Although, our legendary factory manager would faint at the prospect of trying to achieve that!
And so where does our Olly's snacking steam train go from here…
What the future holds for Olly's: Olly Hiscocks, Founder at Olly's
We're super proud of our range of olives, nuts, pretzel thins and chocolate pretzel thins and we'll never stop giving them the TLC they deserve, but I've also constantly got my eyes on the next big thing that we could launch (just as I kept my eyes on the family snack tin all those years ago) and I've got no doubt, we've got plenty more game-changing taste experiences that we'll be bringing to the people in the years to come.
I'm incredibly proud of our team and have a never-ending appreciation for all the love and support we continue to receive from our wider fam-olly.