DIFG meet BRAVE: The re-brand!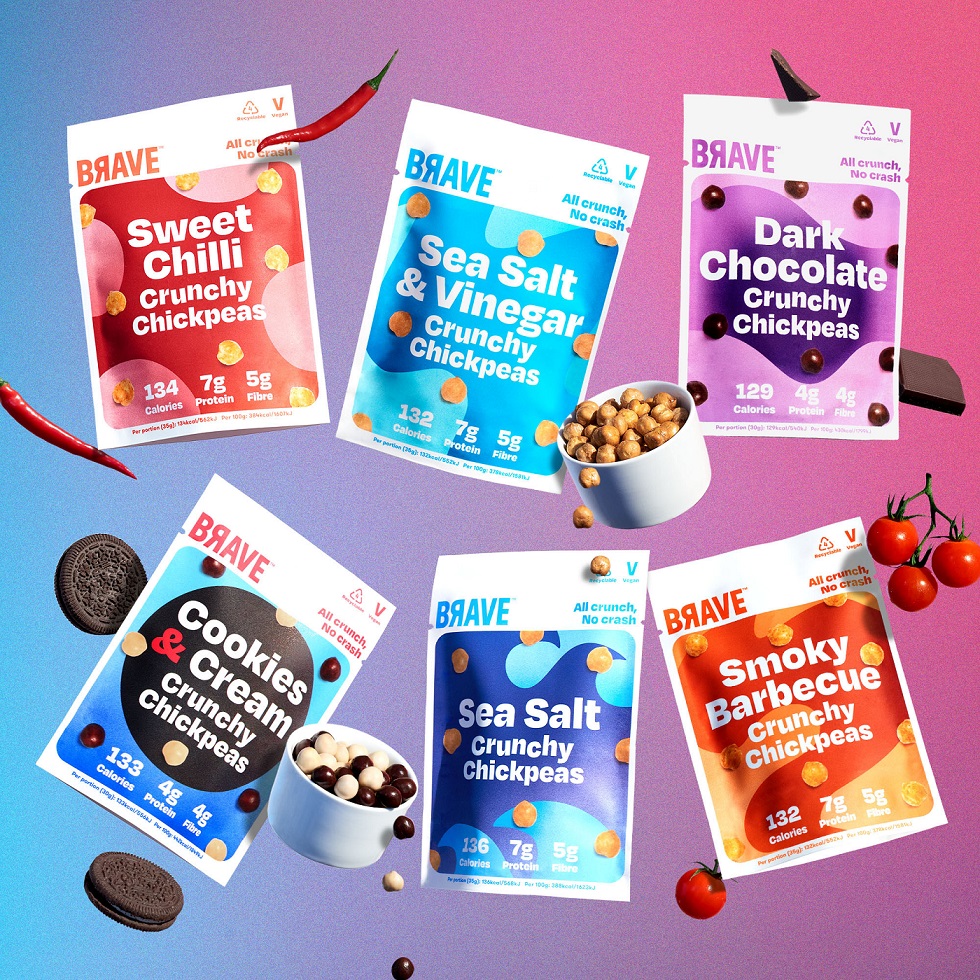 Delicious Ideas Food Group speak to Amber and Seb, founders of Brave! They talk about the brands mission centered around taste, nutrition and sustainability. Then the pair talk about the decision to re-imagine a well-established snacking brand!
Who are BRAVE?: Will Cabedo, Sales Manager at BRAVE
BRAVE is founded by husband and wife duo Amber & Seb, with the aim of helping everyone make more nutritious and sustainable food choices. They make an award-winningly delicious range of roasted pea and chickpea snacks that are nutritional powerhouses!
BRAVE's Roasted Chickpeas are packed with more protein than cashews and fewer calories than popcorn. They also happen to be one of the most sustainable sources of protein on the planet!
BRAVE's mission centred around the Super Snack Trifecta: Amber Fraser, Co-founder at BRAVE
BRAVE's mission is centred around what we call the Super Snack Trifecta: Taste, Nutrition and Sustainability.
Taste always comes first – our snacks cover all flavours and are all formulated with high-quality, all-natural ingredients. We've got smoky BBQ, tangy Salt & Vinegar and even just launched the World's First Cookies & Cream Roasted Chickpea – delish!
Secondly, all our snacks pack a nutritional punch. With more protein than cashews and fewer calories than popcorn, they're bursting with natural energy and make for the perfect on-the-go snack.
They're also a fantastic source of fibre, which helps to build up the healthy microbes in your gut that have been linked to all aspects of your general wellbeing, helping fight off viruses, prevent diseases like diabetes and even contributing to your mental health!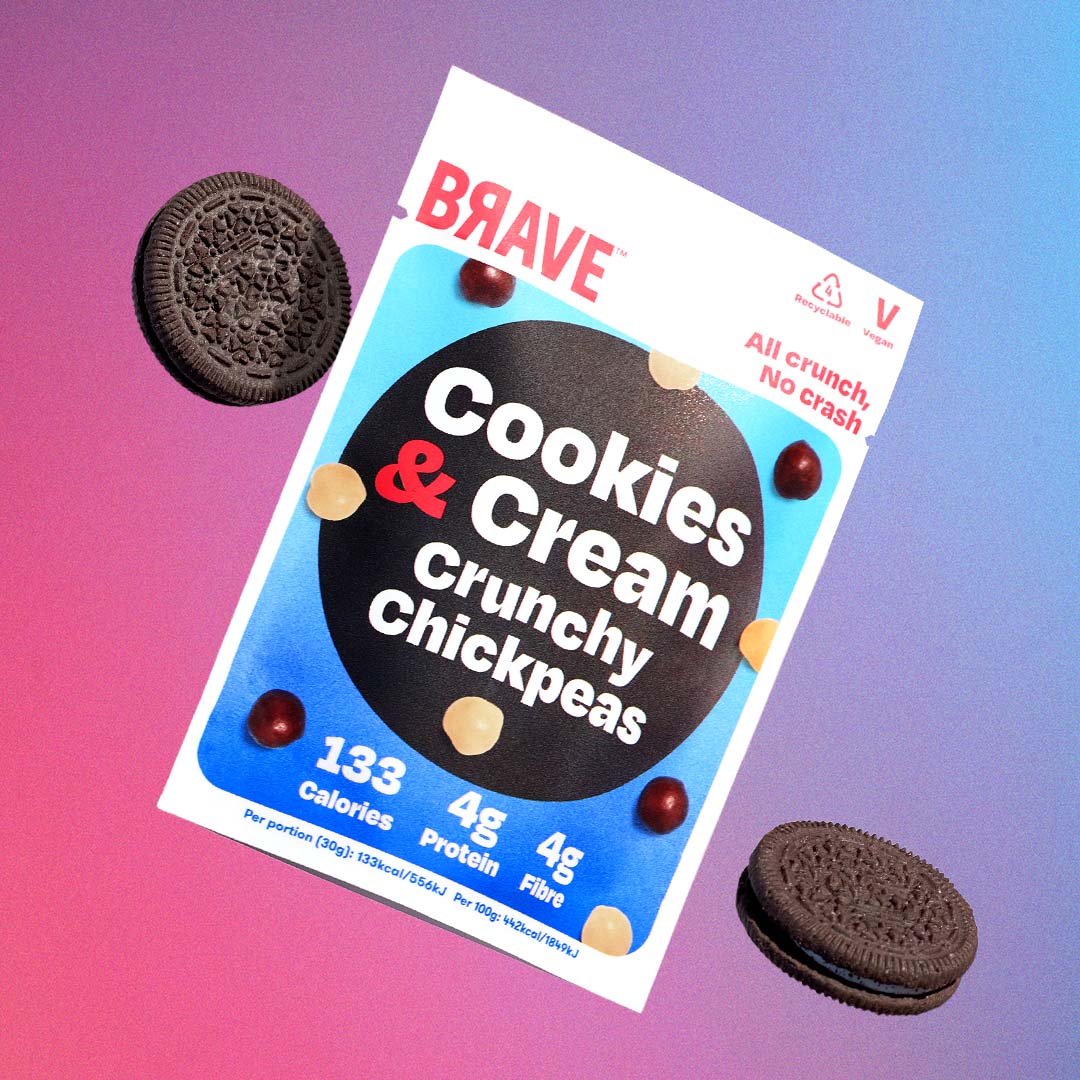 Finally, pulses are one of the most sustainable sources of protein on the planet. Not only do pulses require very little water and fertiliser to grow, but they are actually magic.
Well, they aren't actually magic… but pulses 'fix' nitrogen back into the soil. That nitrogen then works as a natural fertiliser, helping whatever is planted in that soil to flourish and grow, meaning you don't need additional fertilisers. They also help to rejuvenate the soil after monocrops like corn or wheat destroy it.
Pulses also have super low GreenHouse Gas emissions. In fact, Of all protein sources, the humble pulse emits the lowest levels of GHGs! Pulses release just 0.4kg CO2/100g protein versus cheese, which releases 11kg/100g protein, or Beef product a whopping 50kg CO2/100g Protein. Food production is responsible for 1/4 of all GreenHouse Gas (GHG) emissions – meaning what you choose to snack on can make a massive difference.
The re-brand: Emma Reynolds, Digital Marketing Executive at BRAVE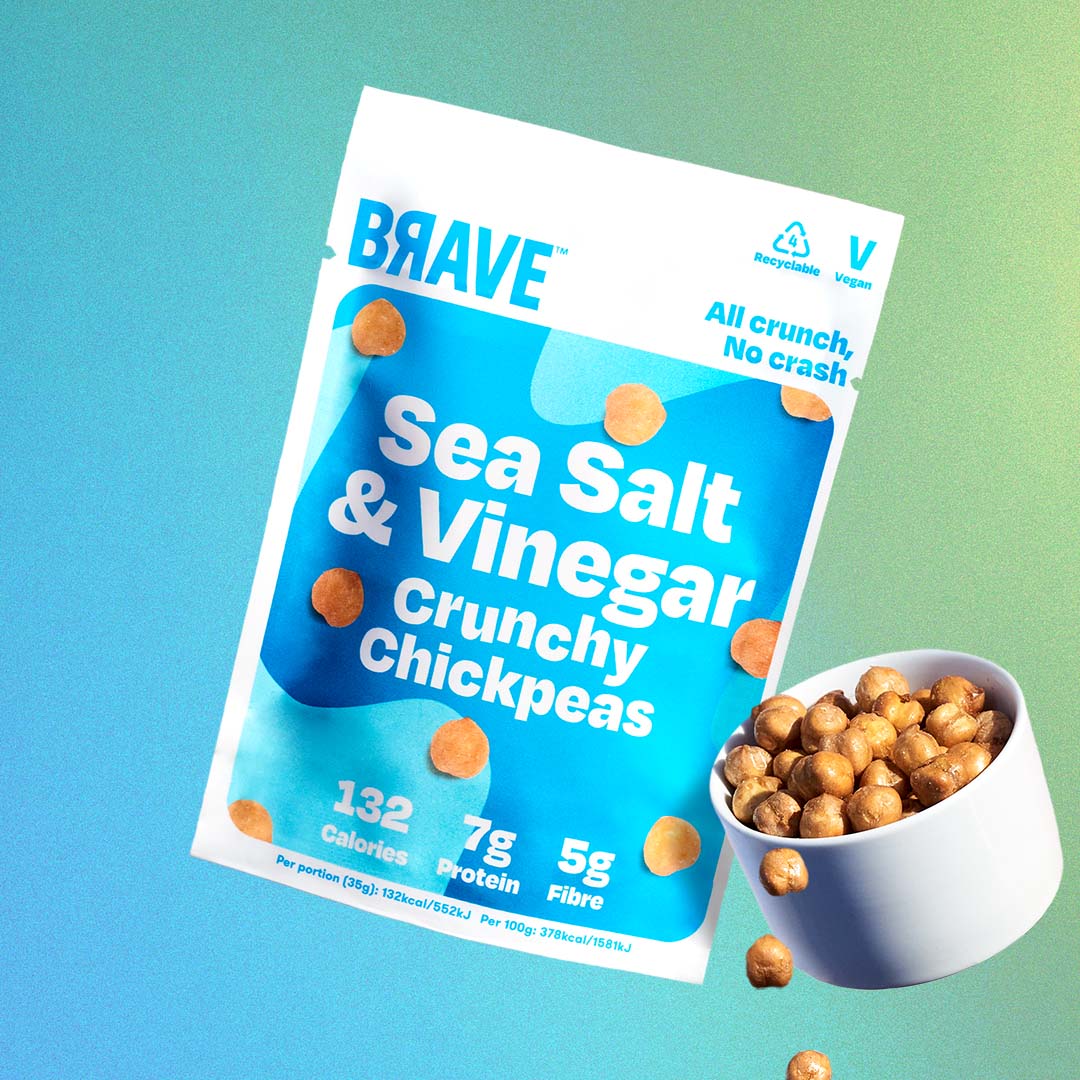 We're so excited to share our exciting new look with the world! Our re-brand aims to deliver an even more indulgent feel to the range while still showcasing our fantastic nutritionals.
After endless amounts of research into what drives initial purchase, we found that 90% of consumers choose flavour as the number 1 factor that influences their decision. So, we'vegone and put flavour front and centre on the pack where it can't be missed.
As well as updating our packaging, we've revamped our website and revealed a new BRAVE logo. But, that's not all… Keep your eyes pea-led for more exciting things to come from BRAVE over the next few months. We want to shake up the food industry, and we can't wait to show you what we've got up our sleeves.
How To Stock up on BRAVE today
Delicious Ideas Food Group supply snacks, confectionery and beverages including BRAVE to thousands of sites around the UK. If you are a hotel, pub, café, co-working space, deli, farm shop or more, set up an account here and get wholesale deliciousness delivered to your site today!
If you have any questions or just want to find out a bit more about our service, get in touch with a member of our sales team today on 01733 239003.