DIFG meet Flower & White: Doing business the right way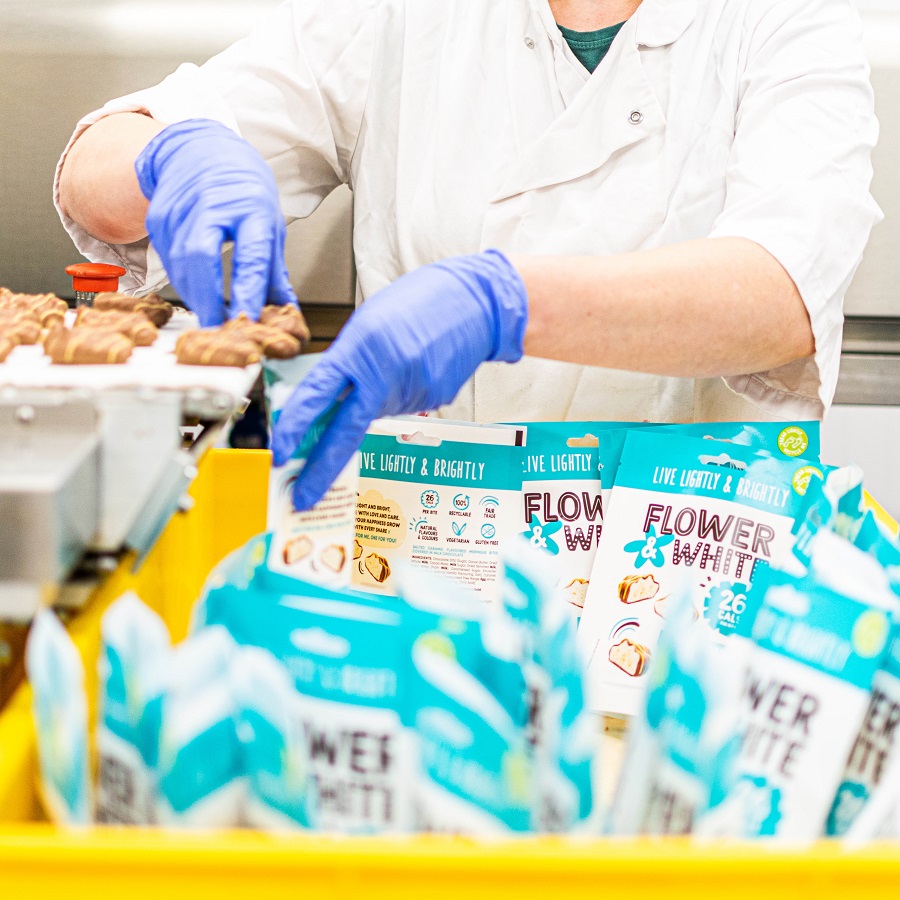 Flower & White was founded in 2009 by husband and wife power team, Leanne and Brian Crowther with the aim to create deliciously light treats that genuinely taste amazing.
Making meringues at home: Leanne Crowther, co-founder at Flower & White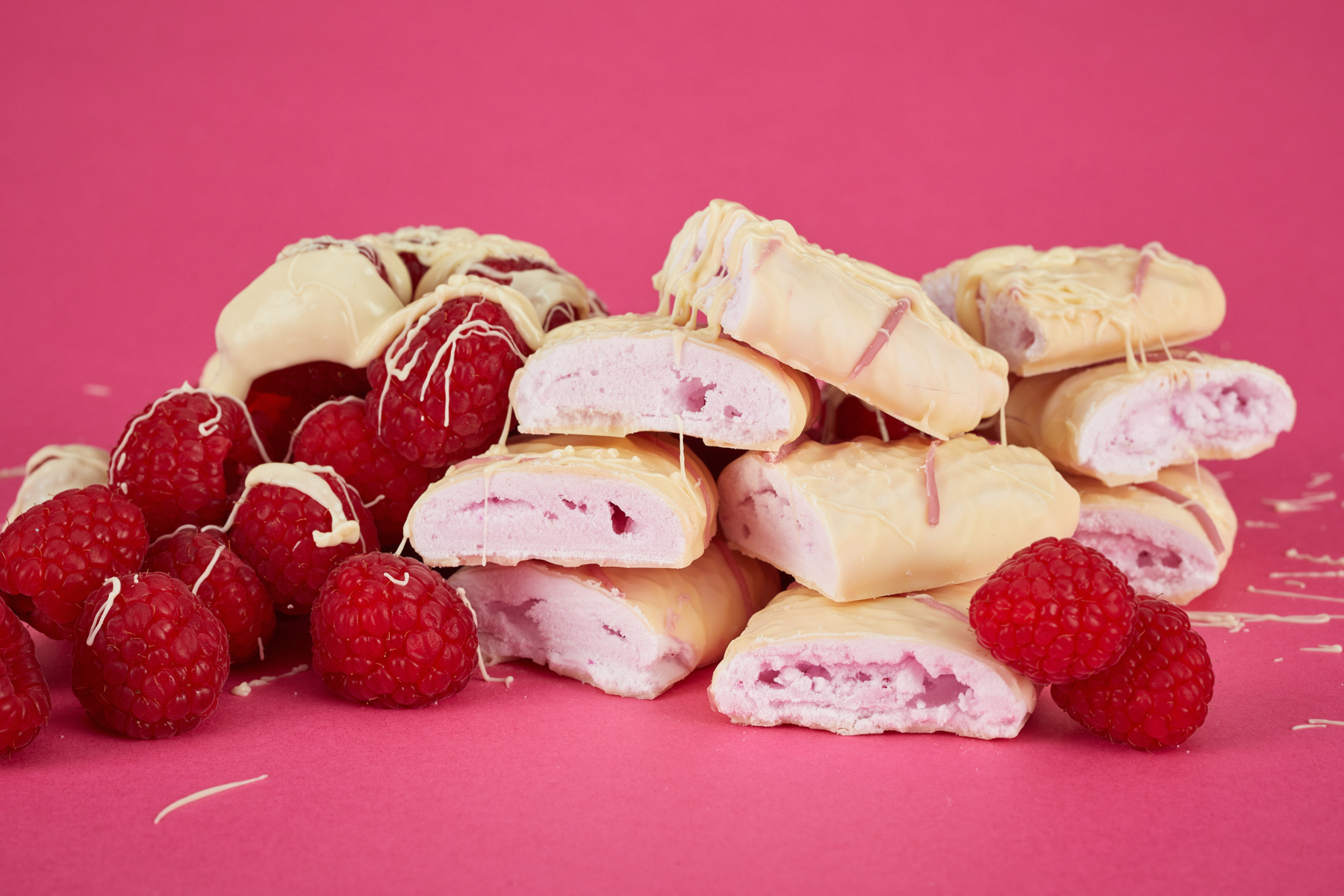 Like many new start-ups, our journey began from home, where we created an array of mouth-watering treats to sell at local farmers markets. It's safe to say that everyone loved our bakes – especially our meringues. Fast forward to today and you'll now find us in our state-of-the-art factory, where we create over one million hand-crafted meringues a day.
Our Great Taste Award-winning product range: Leanne Crowther, co-founder at Flower & White
Our range has also rocketed over the years and we now boast an epic portfolio of innovative, Great Taste Award-winning products. From our spectacular, giant Meringue Clouds to our fast-growing line of delightfully light, yet indulgent bars and bites. Everything we innovate is driven by our philosophy to live lightly and brightly. Our commitment to this way of thinking and doi presented an opportunity to rebrand with a new look that seeks to emphasise our company values and inspire happiness and kindness in our customers.
Re-branding our packs to convey lightness and wellbeing: Leanne Crowther, co-founder at Flower & White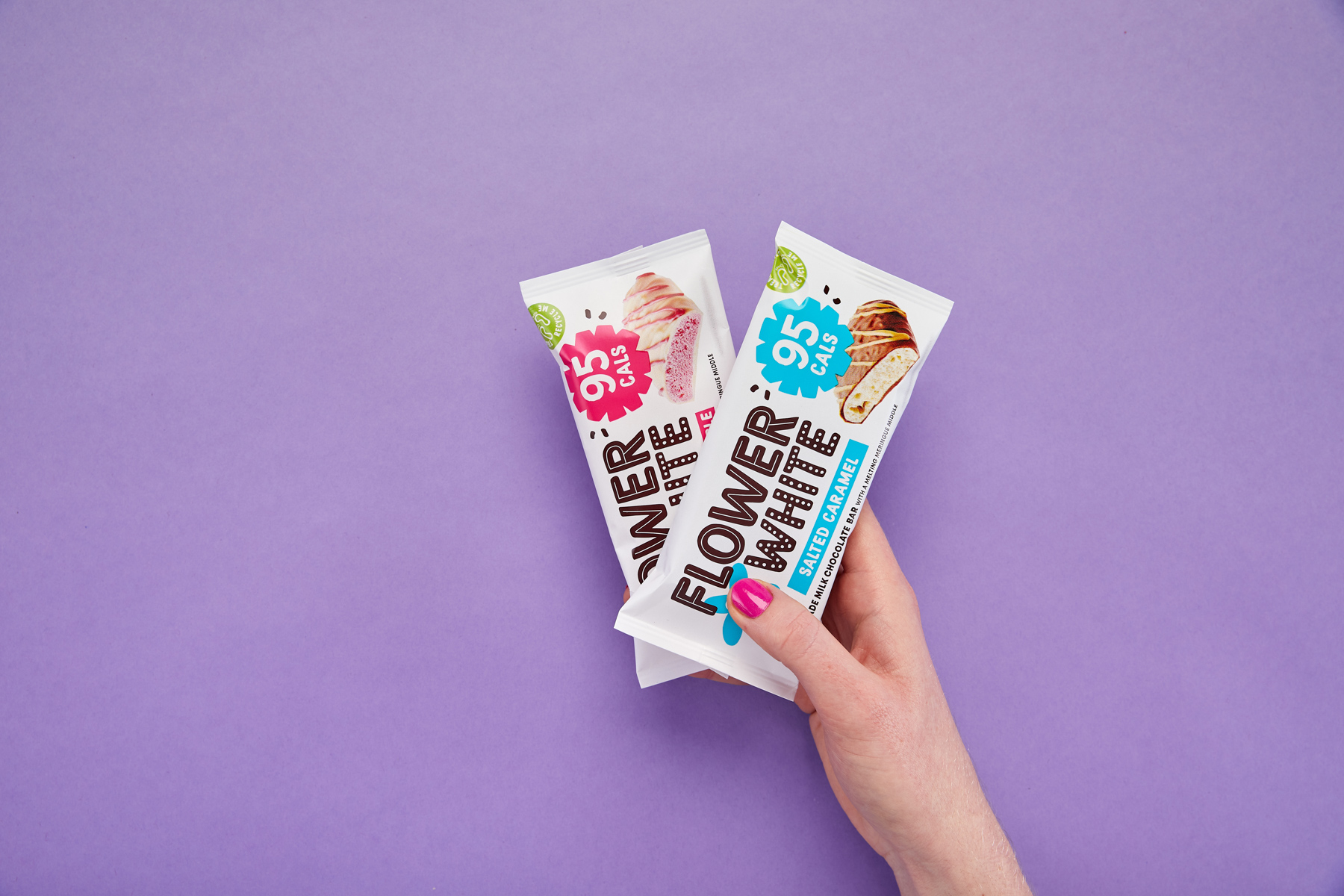 Our playful nature and desire to not take ourselves too seriously has been captured in a new hand-drawn logo. A fresh colour palette ensures each meringue flavour and variant can be easily recognised by its individual shade as well as highlight our powerful 95 calories per bar promise. The white background gives our brand stand out within a category which is currently full of colour and of course, also supports the clean, pure and honest ingredients associated with our products. Our new strapline 'Live Lightly and Brightly' has been introduced to drive home our credentials as an accessible, healthier indulgence.
Conveying messages of lightness and wellbeing to our customers has never been more important to us. If you're a self-proclaimed chocoholic, you know what it's like to have that sweet craving, followed by the sheer joy of unwrapping a bar of the good stuff. However, with the rising awareness of the importance of healthy eating, consumers are looking for more than just that sweet fix in their daily treat or snack.
Huge demand for a healthier chocolate alternative: Leanne Crowther, co-founder at Flower & White
Whether it's for weight loss, wellness or dietary limitations there's never been a bigger demand for a healthier chocolate alternative. Consumers are learning quickly that they don't have to settle, with 74% saying they can't imagine a world without chocolate* – well they don't have to. Calorie intake is one of the biggest factors consumers consider when shopping for snacks and chocolate.
Doing business the right way: Leanne Crowther, co-founder at Flower & White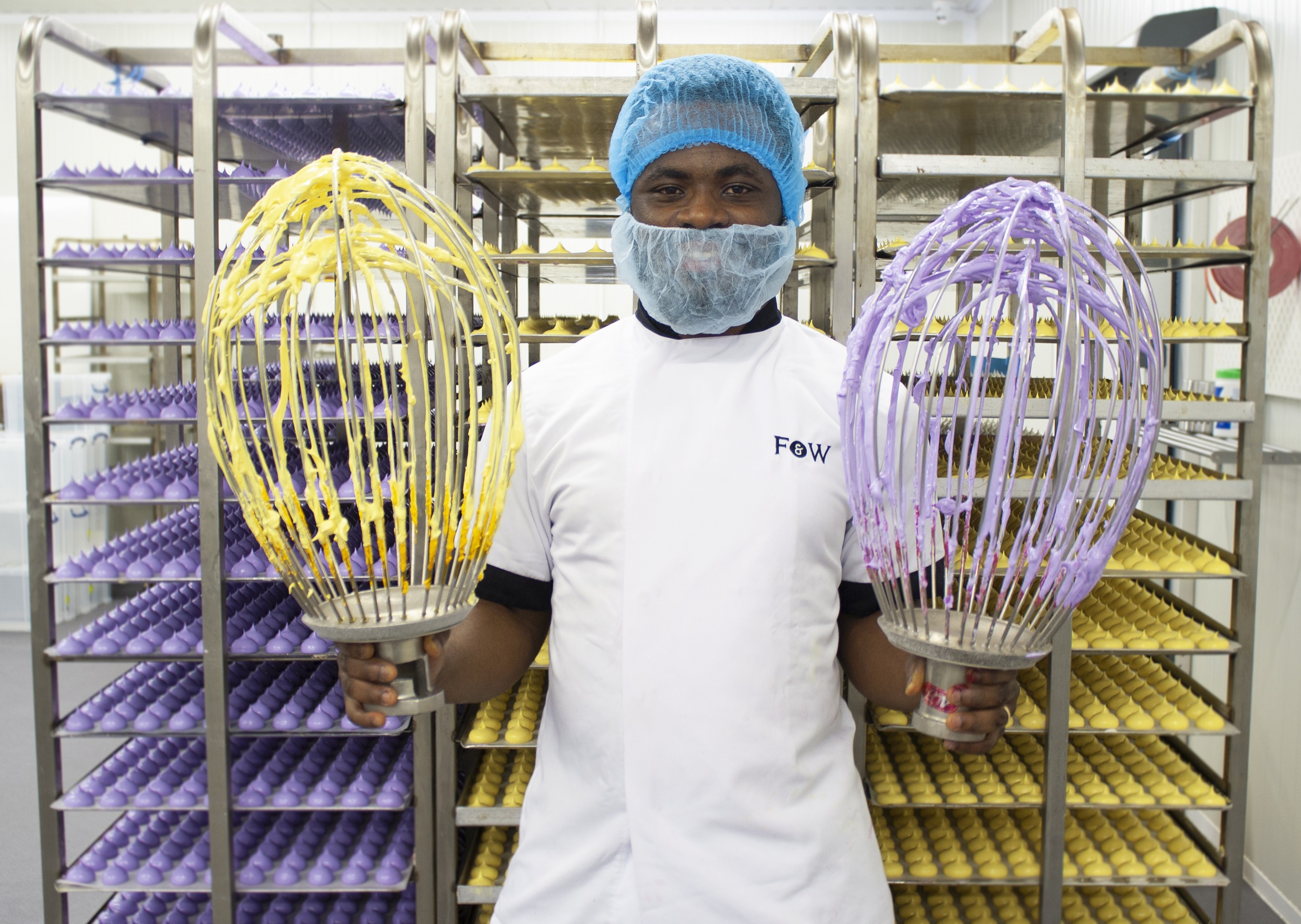 Since we founded Flower & White back in 2009, we've always pushed ourselves to do business in the right way. It's not always been easy, but often the best things aren't and we're proud of how far we've come already. Last year, we officially started on our B Corp journey, to do business in a way that balances people and the planet with profit. Working towards B Corp certification is our chance to step up and show everyone that we mean business when it comes to treading lightly on the planet and being a force for good. Committing to B Corp status means that the environment is at the heart of everything we do.
Moving to paper packaging: Leanne Crowther, co-founder at Flower & White
One of the first important steps we took to tread lightly on the planet was to reduce plastic in our supply chain with the introduction of our paper wrapped bars and bites packaging. While it would have been easy to choose a cheaper, glossier plastic packaging, we knew the impact this would have had and we wanted to empower our customers with the ability to recycle their wrapper from home.
Every little (change) helps: Leanne Crowther, co-founder at Flower & White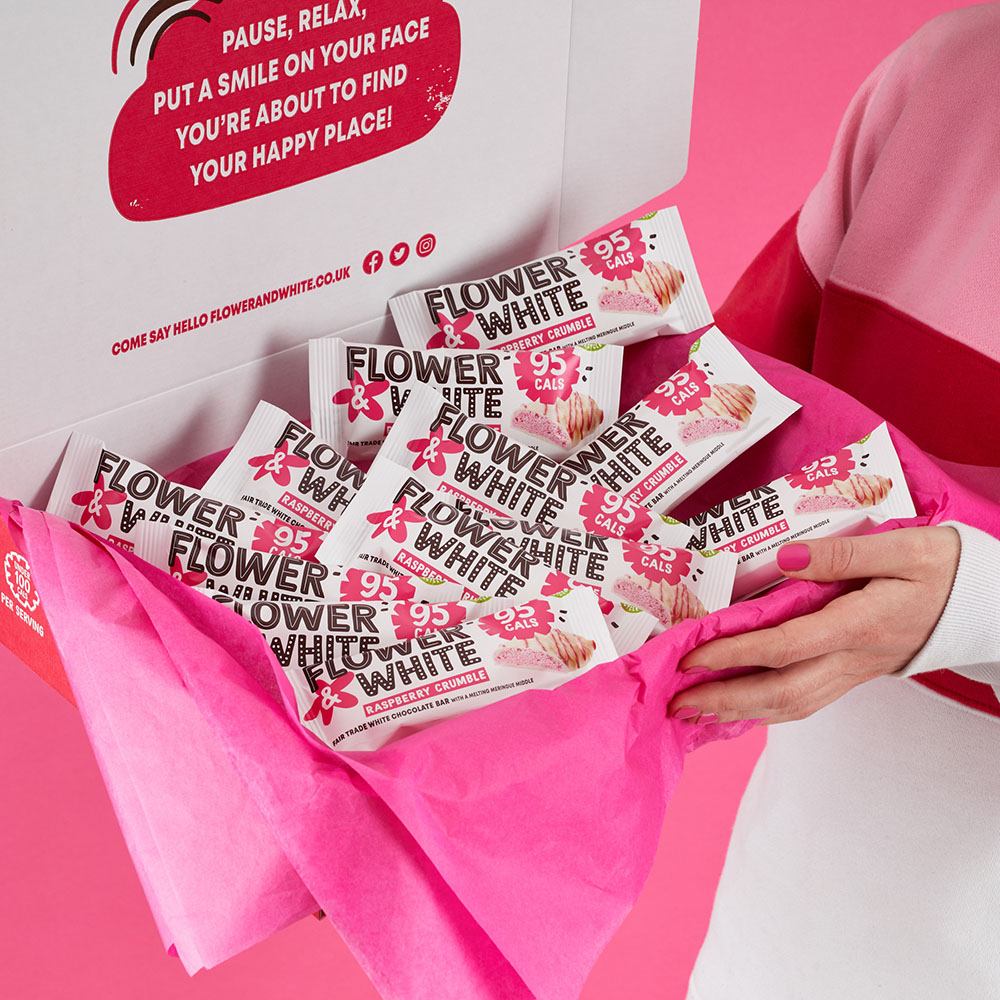 As well as the larger, impactful decisions such as packaging, for us, we believe that no change is too small and we have already made many smaller changes along the way. From introducing LED movement sensor lights to changing our energy supply to renewable energy. It is also important for us to get our entire team behind our commitment too, so we've made it easier for everyone to tread lightly on the planet with bike to work schemes, battery recycling boxes, electric vehicles, car sharing and encouraging everyone to take part in reviewing and reducing their carbon footprint personally.
It's not always easy, but we've always been clear that we want to do our best for our customers, our team and the planet. We want our business to be fun, to never take ourselves too seriously; to always do business the right way; and to make irresistible treats that make people happy. We wouldn't have it any other way!
How To Stock up on Flower & White today
Delicious Ideas Food Group supply snacks, confectionery and beverages including Flower & White to thousands of sites around the UK. If you are a hotel, pub, café, co-working space, deli, farm shop or more, set up an account here and get wholesale deliciousness delivered to your site today!
If you have any questions or just want to find out a bit more about our service, get in touch with a member of our sales team today on 01733 239003.