DIFG meet Harry Turpin at The Savourists 🔥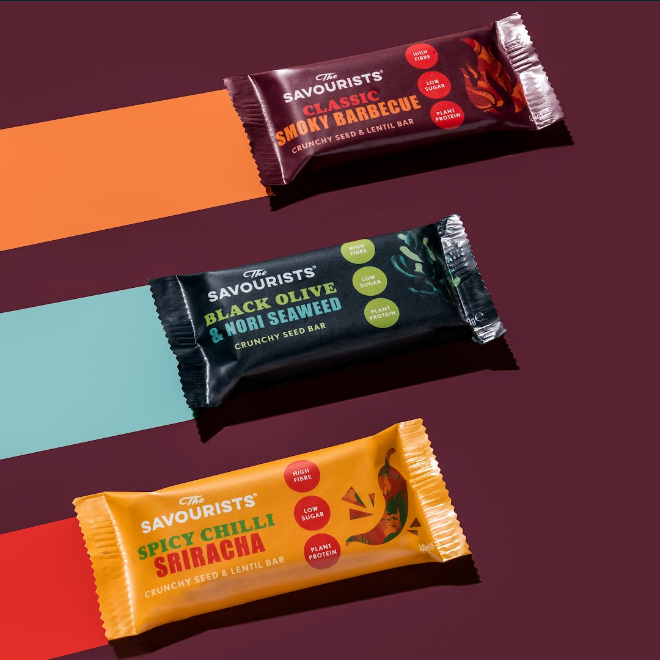 Founded in 2019 by Harry Turpin, The Savourists mission was simple: create delicious healthy savoury snacks that challenge the norm.
Spotting a (savoury) gap in the market: Harry Turpin, Founder at The Savourists
Harry started the brand having seen the industry evolve first hand at Cawston Press. The introduction of the sugar tax meant fundamental changes to the range of soft drinks they produced. It got Harry thinking about the impact this would have on other areas of grocery, so he headed straight to the sweet snack bar aisle and did some investigating. 30 chocolate, date and oat bars later, it became clear to Harry that 50% sugar wouldn't cut it. But, reducing sugar compromises flavour and adding sweetener doesn't really solve the issue either. The penny dropped and the idea came to him, why are there no savoury snack bars?
There seemed to be a clear gap in the market, so the UK's first savoury snack bars were born. In 2019 our Black Olive and Nori & Sundried tomato bars hit the shelves!
Using our research to launch two new flavours: Harry Turpin, Founder at The Savourists
Launching a 'grab and go' product just before a global pandemic of course threw up challenges, but it allowed the brand to focus on their consumer and discover more about what they are looking for from savoury snacks. This led to the introduction of 2 new mainstream flavours: 'Classic Smoky BBQ' & 'Spicy Chilli Sriracha'. All the bars are high fibre, low sugar and packed with plant protein, providing real nutrition that tastes banging, all while using real ingredients; puffed brown rice, lentils, ancient grains and seeds.
Our latest crunchy seed & lentil bar launch is the Black Olive & Nori Seaweed bar!
Launching a podcast to help break the taboo of discussing mental health: Harry Turpin, Founder at The Savourists
As a challenger brand, staying ahead of the curve is so important. To ensure The Savourists strive to offer more to their consumers than discount codes and giveaways, Harry launched a podcast called untold. Untold's main aim is to reiterate the importance of discussing mental health and to break the taboo. The podcast, hosted by Harry and Kitty is centered around untold stories in the food and drink industry, specifically focusing on the tough times and the toll that building a business has on mental health.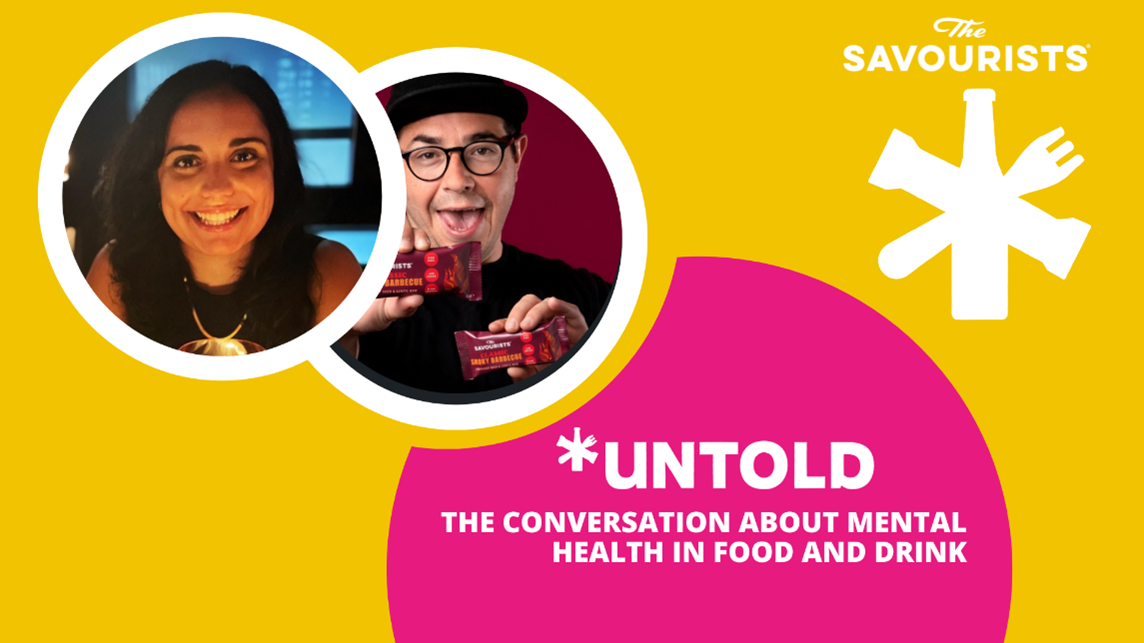 Harry says, "Everyone talks about the positives, the new launches, the NPD. Where is the reality of what happened along the way? If we can encourage and inspire more people to talk about it, hopefully we can do our little bit to help those going through the tough times at the moment. We of course want to shout about the fantastic brands we have had on, and there is a section focusing on where to find the brand and more".
Mental health is a core value at the Savourists, and we look at work with a 'life comes first' mentality. The team ethos is truly centred on building a sustainable brand that promotes creativity.
You can find it by typing in 'Untold: Behind the Scenes in the UK Food & Drink Industry' on the various platforms out there!
Coming soon… Harry Turpin, Founder at The Savourists
Now, 3 years later the brand is set to launch a whole new range. Crunchits – Bites made from toasted Edamame, black beans & puffed rice bundled together and coated with Thai chilli and Sizzlin BBQ. Full of protein and under 100 kcals. They taste banging and are made for crunching! Since day one taste has been the priority, for too long the healthy option is often presented as worthy and The Savourists are on a mission to bring mega flavour, loaded ingredients and real nutrition to the market whilst keeping the brand full of energy and personality. Whilst ensuring that these products are accessible to all with an affordable price tag.. For too long, savoury snacking has meant picking up a bag of deep fried potatoes or extruded puff'd products. We wanted something that would  crunch like a bag of crisps and bring the moreishness of nuts, that you can eat alongside lunch or your beverage of choice! Banging flavour, loaded ingredients… Real Nutrition.  We can't wait for people to pick up a bag and tell us what they think. Keep your eyes peeled as their new products will be available soon….. MEGA! 
Delicious Ideas Food Group supply snacks, confectionery and beverages including The Savourists to thousands of sites around the UK. If you are a hotel, pub, café, co-working space, deli, farm shop or more, set up an account here and get wholesale deliciousness delivered to your site today! If you have any questions or just want to find out a bit more about our service, get in touch with a member of our sales team today on 01733 239003.