DIFG meet Upstream: Zero sugar, low-calorie flavoured water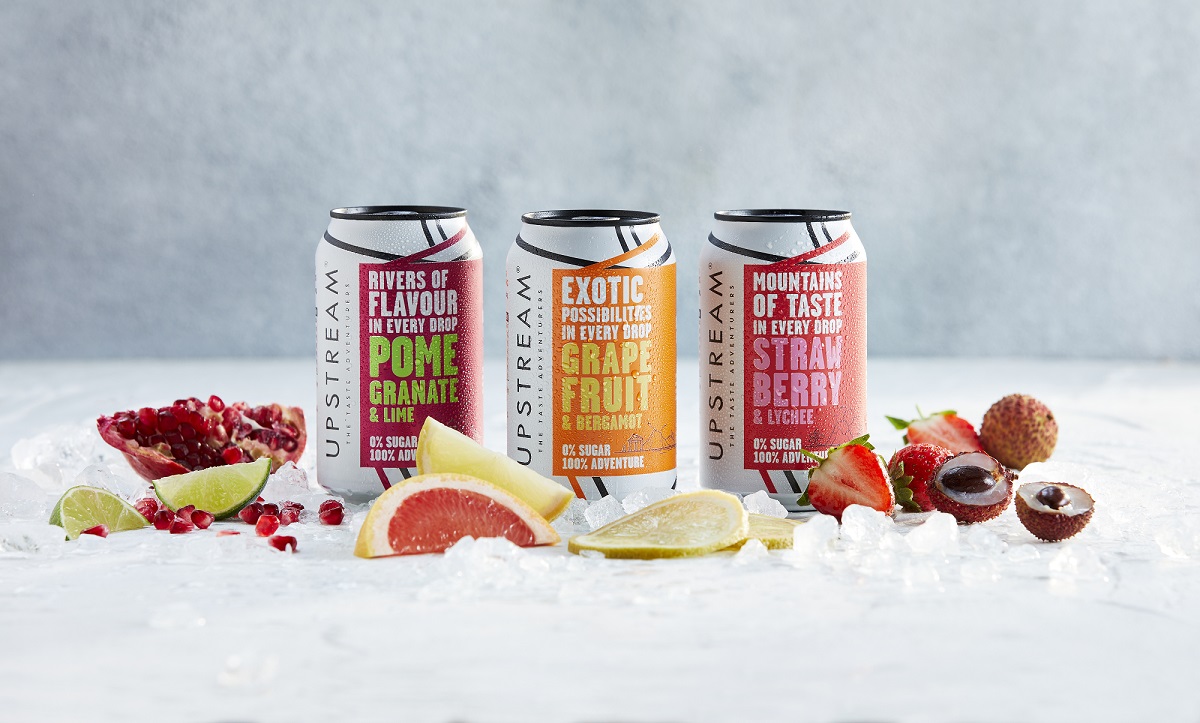 Delicious Ideas Food Group talk to Upstream all about the brand, what it has achieved, what are the plans for the future, and why it is a great addition to your business
Upstream's vision and the health-conscious consumer market: Susanne Wright, Marketing Director at Upstream
Launched in early 2019 by Clearly Drinks, Upstream's vison was simple: to create a zero sugar, low calorie flavoured water that didn't compromise on quality and offered a daily dose of refreshment. As the demand for convenience continues to rise, their goal was to deliver an appealing product with great flavours that can be consumed as an adult premium soft drink.
As the health-conscious consumer market continues to grow year on year, and the demand for consumers wanting variety has increased, Upstream saw a gap in this highly competitive market. They offer retailers such as hotels, pubs, deli's and more the opportunity to tap into the zero sugar and low-calorie trend and ultimately drive sales.
How Upstream has acheived an industry leading carbon footprint: Susanne Wright, Marketing Director at Upstream
Upstream's ethos is all about being committed to keeping the environmental impact to a minimum throughout all stages of the cans' life. Their carbon footprint is industry leading at 0.14kg CO2 per litre which is made achievable due to their innovative manufacturing processes and having the ability to source this pure, local water onsite minimises the miles travelled— reducing their carbon footprint.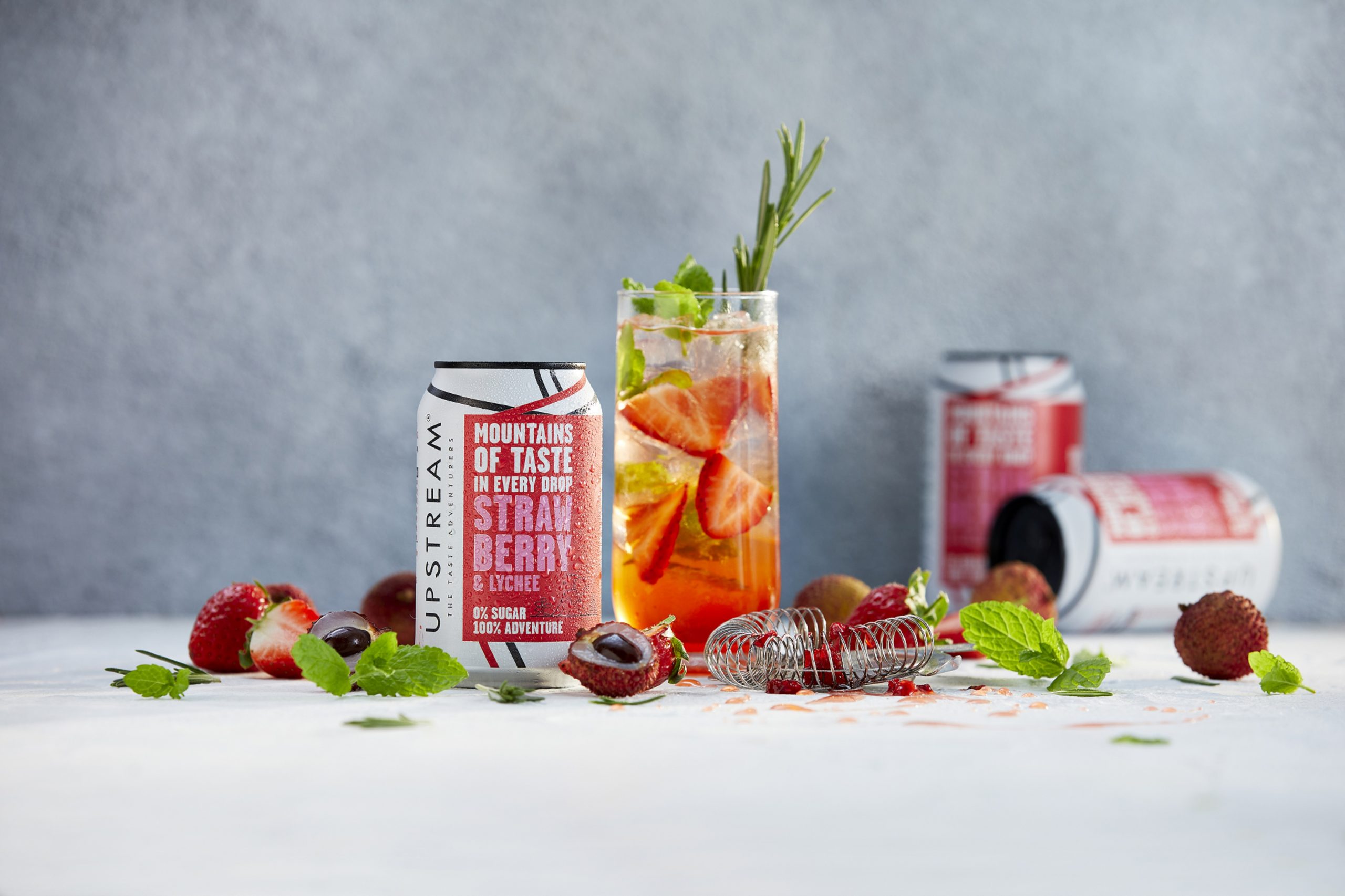 Another way they minimise miles is by sourcing 95% of all the materials from within the UK. Upstream is also working to further reduce their energy consumption by an additional 6% by the end of 2022 and targeting net zero by 2035.
Having achieved zero waste to landfill, Upstream is a brand that is proud of being committed to continuing to limit waste energy and implement energy efficient technology across all areas of their business.
Sourcing water from underneath the facility! Susanne Wright, Marketing Director at Upstream
Upstream are a brand that cares about the planet and want to do everything they can to make the right choices for it. With significant investment in a new, state-of-the-art canning facility, they have the ability to produce 100% recyclable aluminium cans which can be infinitely recycled!
All their ingredients and containers are sourced in the UK, from the local water and flavours to the cans. Likewise, all products are canned at source using their very own UK spring water. The Clearly Drinks plant is built around two onsite boreholes so the only time the spring water deviates from its natural underground course is when it's canned!
Did you know that naturally sourced water in the UK has one of the lowest carbon footprints of any beverage? Not only are they utilising what is on their doorstep, they are continually working to further reduce CO2 emissions. Upstream is passionate about protecting future generations and our planet, as they seek to constantly evolve in an environmentally friendly manner.
The future of Upstream Drinks: Susanne Wright, Marketing Director at Upstream
The range of adventurously flavoured premium soft drinks recently relaunched last year with a bold new packaging design. Canned at source using UK spring water with fruity flavours inspired from around the world, Upstream brings a unique taste of travel and adventure combined with UK provenance and expertise.
Upstream is a healthier, low-calorie alternative to standard sugary soft drinks and mixers. Providing a 'taste of adventure' whilst making it more exciting to stay hydrated with its tasty range of flavours.
Each can of Upstream contains zero sugar and less than 5 calories, providing a healthier option without the sugar, but not compromising on taste with its natural full fruit flavour combinations including Strawberry & Lychee, Grapefruit & Bergamot and Pomegranate & Lime.
In the future, Upstream sees an expansion of the product portfolio by discovering more world flavours and creating products that add depth to the current range. They believe it's essential to build upon the brand which can be achieved through the exploration of different occasions, more specifically adult premium mixers and alcohol collaborations. Their vision is to become the go to brand of this category by tapping into new avenues.
Driving Brand awareness, through adventurous trade and consumer marketing, will help the zero sugar brand become more of a household name in this highly competitive market.
How To Stock up on Upstream today
Delicious Ideas Food Group supply snacks, confectionery and beverages including Upstream to thousands of sites around the UK. If you are a hotel, pub, café, co-working space, deli, farm shop or more, set up an account here and get wholesale deliciousness delivered to your site today!
If you have any questions or just want to find out a bit more about our service, get in touch with a member of our sales team today on 01733 239003.