Well & Truly: #Naughty-ish
The OG Snackers
Hi Sara and Maria here! We love snacking. We love it so much that we started Well & Truly so that we could spend our days snacking and call it work. Our number one focus is taste and flavour!
We have a range of wickedly addictive savoury crisps and a range of oh-so-creamy, plant based and ethical chocolate.
Our savoury snacks are gluten free, contain 40% less fat than the average crisps, and are jammed full of crave-worthy flavour. Our chocolate is made using oat milk, which is a ma-hoof-sive step in the right direction for plant-based indulgence. They are packed with delicious inclusions that will have your taste buds on the edge of their seats.
Now that we've rid crisps and chocolate of their naughty bits, you can finally snack like you really mean it!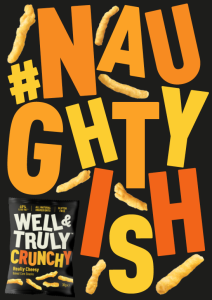 How Did the Well &Truly Journey Begin?
Well & Truly, originally launched in June 2016 as a gluten-free alternative to mainstream snacks. The brand's gluten-free positioning – and its apologetic 'diet' design codes – had won it a home in the free-from aisles as well as a variety of small independent retailers, but was now holding the brand back from any real growth among mainstream snacking consumers.
In 2018, a radical repositioning and full rebrand, incorporating everything from pack design to social media strategy, transformed Well &Truly from a dusty diet food into a gloriously tasty lifestyle brand. By bridging the gap between healthy alternative and mainstream snack, the new branding enabled Well & Truly to find a home beyond the free-from aisle, become a real contender in the super-competitive mainstream snacking market, and grab the attention of consumers who simply want to snack better.
In 2020 we further solidified our mainstream position by launching our naughty-ish brand positioning with none other than Gemma Collins herself (who else of course?). The campaign's cheeky style mirrors that of the brand – a snack brand that's not bad for you, just naughty-ish.
Well &Truly Crunchies Stocked with Delicious Ideas
Our hero range Crunchies is stocked with Delicious Ideas in 4 mouth watering flavours;
Banging BBQ
Really Cheesy
Sea Salt & Cider Vinegar
Sour Cream & Onion
Our gluten-free Crunchies are made with all-natural ingredients, and have 40% less fat than the average crisp, keeping all the crave-worthy flavour to keep you digging to the bottom of the pack (wait, where's the catch?). Naughty flavour, nice ingredients – that's why they're naughty-ish, plain and simple.
How to Stock Up on Well & Truly today!
Delicious Ideas Food Group supply snacks, confectionery and beverages including Well & Truly to thousands of sites around the UK. If you are a hotel, pub, café, co-working space, deli, farm shop or more, set up an account here and get wholesale deliciousness delivered to your site today!
If you have any questions or just want to find out a bit more about our service, get in touch with a member of our sales team today on 01733 239003
By Sara Trechman Co-Founder of Well &Truly 💜