Boundless meets DIFG: the brand on a mission to deliver gut happy snacking!
If you have a gut, you need to look after it. That's why The Kernel (aka Cathy Moseley) started Boundless in 2017. Whilst suffering with her own gut issues she decided that enough was enough – our guts deserved more. Taking snacking matters into her own hands, Cathy spent hours in her kitchen perfecting flavour combinations and activation methods ready to take them to a manufacturer. The journey was a tough one – nobody had tried to do quite what she was doing, on this large a scale – but she got there eventually and it's been a whirlwind ever since.
Good Food = Good Mood
It all starts from within! Giving our gut a little TLC is *essential* to our overall wellbeing. A happy gut = a happy mind & body. That's why our snacks are 100% activated. Activation removes Phytic Acid that sits inside nuts, seeds & grains, giving you VIP access to all of the nutritional perks without having to lift a finger! Our 100% natural ingredients are full of gut friendly fibre & packed with a range of nutrients. All the above = 1 happy gut.
The entire Boundless ramge is built for inclusivity – nobody should miss out on snacks that taste good & do good. That's why we are registered with both the Vegan Society & Coeliac Society as vegan and gluten free. We go the extra mile to look after you, so you look after your gut! It's also why we chose our charity partners Frank Water. Bristol based & female founded like ourselves, they work to provide safe drinking water, sanitation & hygiene across India & Nepal to forgotten communities. Most importantly, they provide families – and mainly women – independence. This was something beyond important to Cathy, as a female founder, so she made the pledge to donate 1p per bag of snacks crunched to Frank.
Whether you're looking for a boost with our nuts & seeds or an afternoon pick me up with our chips, we have you covered to get gut happy!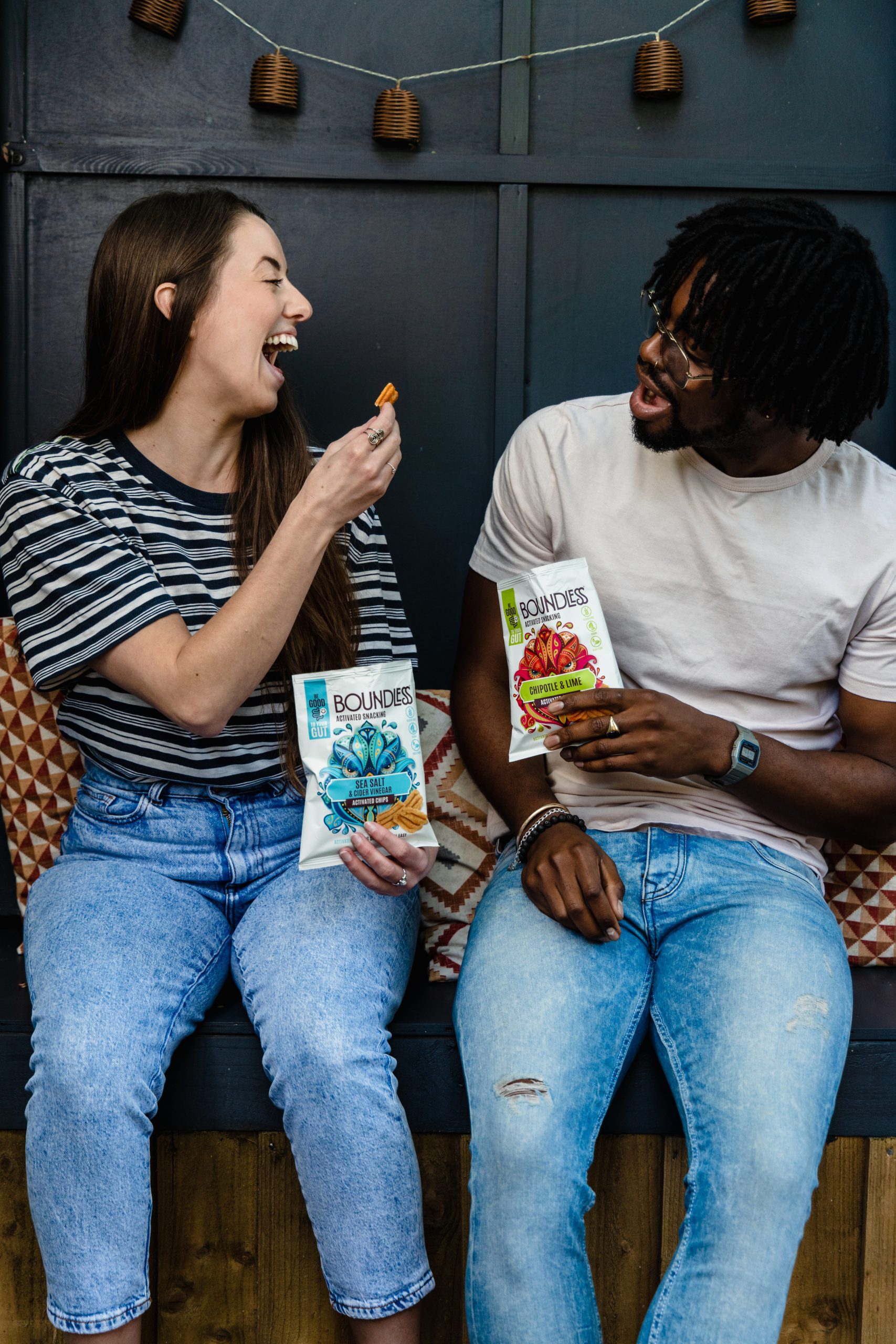 Delicious Ideas Food Group supply snacks, confectionery and beverages including Boundless to thousands of sites around the UK. If you are a hotel, pub, café, co-working space, deli, farm shop or more, set up an account here and get wholesale deliciousness delivered to your site today!
If you have any questions or just want to find out a bit more about our service, get in touch with a member of our sales team today on 01733 239003.