GUT HAPPY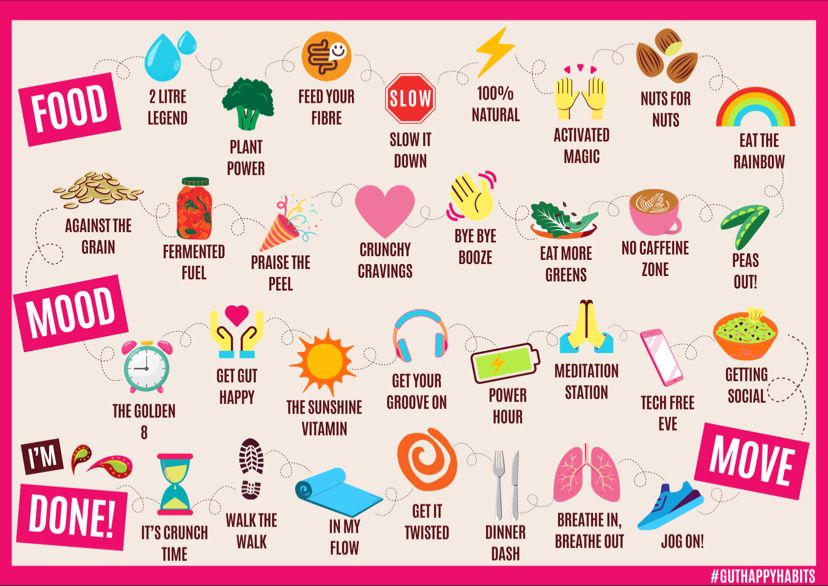 It won't be a surprise to many that the workplace is where many suffer the most when it comes to digestive issues: a sedentary 8 hour day, filled with caffeine spikes and sugar crashes, can wreak havoc on our microbiome. Some may be surprised to discover, however, that not everything linked to our microbiome is diet related. In fact, over 70% of our happy hormone – serotonin – is made in our gut. There are simple but effective lifestyle changes we can make in the workplace which can have a positive impact on our digestive health; ones if championed by employers could lead to a more positive AND productive workforce!
When it comes to consumer attitude, gut health has seen a ground-breaking spike in interest post pandemic. When consumers were asked which health areas they planned to address in the next 12 months, 66% said immunity and digestive health were their top priorities (FMCG Gurus, 2023) – a shift in interest that has begun to reflect in in store purchases. Whilst the retail market for crisps, snacks & nuts is growing at a steady 11.9% year on year (IRI / Mintel, 2022), the "Better For You" crisp category is exploding – with growth soaring to 21% (Nielson, 2023) In the first 3 months of 2023, Kantar reports a 5.7% increase in spend on non-HFSS products, despite limited action across retail; an evident sign of shift in consumer attitude, an increased understanding when it comes to health & a movement towards empowering better choices in snacking.
POWER HOUR
Taking a lunch break seems easier said than done – in particular when that report really needs finishing by 12, or you've just got *one* more email to send. Regular stress management is key to looking after our gut health, lowering inflammation & easing GI distress, with a lunch break one of the simplest steps to take.
WALK THE WALK
A brisk walk is the simplest form of digestive exercise, and the least costly or time consuming. Encouraging a 10-15 minute break during the work day to recharge can result in both increased productivity & comfortability in the office. Using break times for gentle social exercise is a surefire way to supercharge your serotonin!
FEED YOUR FIBRE
Lunching al-desko either in the office, or at home, is prime time for fuelling up on fibre. According to NHS statistics, 1 in 7 of us suffer from constipation – inevitably due to poor consumption of soluble and insoluble fibre in our diets, with very few of us eating the suggested 30g daily target. Fibre is the key fuel for your gut, so easy additions to make in the cafeteria offerings are additional leafy greens, pulses and nuts & seeds to supercharge soups & salads.
NUTS FOR NUTS
Nuts & seeds are total nutritional powerhouses when it comes to gut health, so much so that the World Health Organisation suggests everyone should aim to eat a 25 – 30g serving of them daily. The importance of activation isn't something that should be ignored nor neglected when it comes to your nuts & seeds fix!
MICROS OVER MACROS
Following NHS dietary guidelines, our nation has improved significantly at prioritising macronutrient food groups, with emphasis placed on protein and healthy fats. Despite this, we often neglect those mighty micronutrients! Whether it's mood-boosting magnesium found in pumpkin seeds, walnuts & pecans, the power of potassium for digestive function found in sunflower seeds & sorghum or the importance of iron to feed gut bacteria from almonds & cashews, having a diverse range of macronutrient and micronutrient friendly snacks on hand at work is essential to overall well being.
GETTING ACTIVATED
Whole grains, nuts & seeds contain something called phytic acid, which binds to certain nutrients including zinc, iron, magnesium, calcium & phosphorus. It is these nutrients that make the foods they sit in so beneficial, however without neutralising phytic acid we can't access them – our nutrient bioavailability is limited to 5-15%. However, by soaking & sprouting – aka "activating" – we give ourselves access to up to 95% of the gut loving benefits. Good food = a good mood, so getting activated should be top of our priority list when it comes to getting gut happy in the workplace.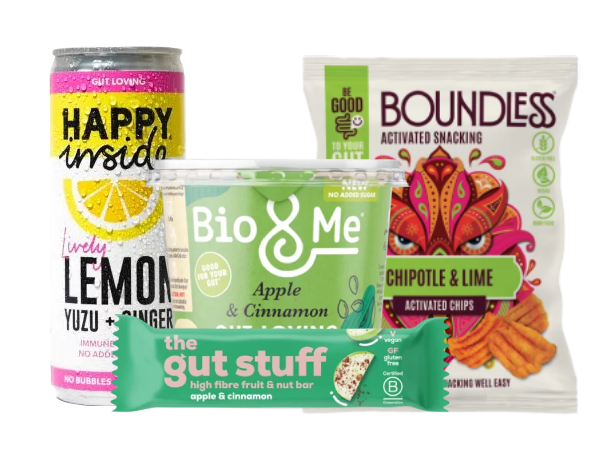 *PSST* – There's something big coming on October 9th! Eyes peeled!
Delicious Ideas offers a range of gut happy brands to support you throughout the day. From starting the morning off with a bowl of Bio & Me Apple & Cinnamon porridge topped with Boundless nuts & seeds, to refreshing yourself throughout the day with a Happy Inside Lively Lemon Yuzu and Ginger, to getting a fibre hit from a The Gut Stuff fruit and nut bar!!!
Written by Boundless Gut Happy Snacking