Gut Health done right with BIO & ME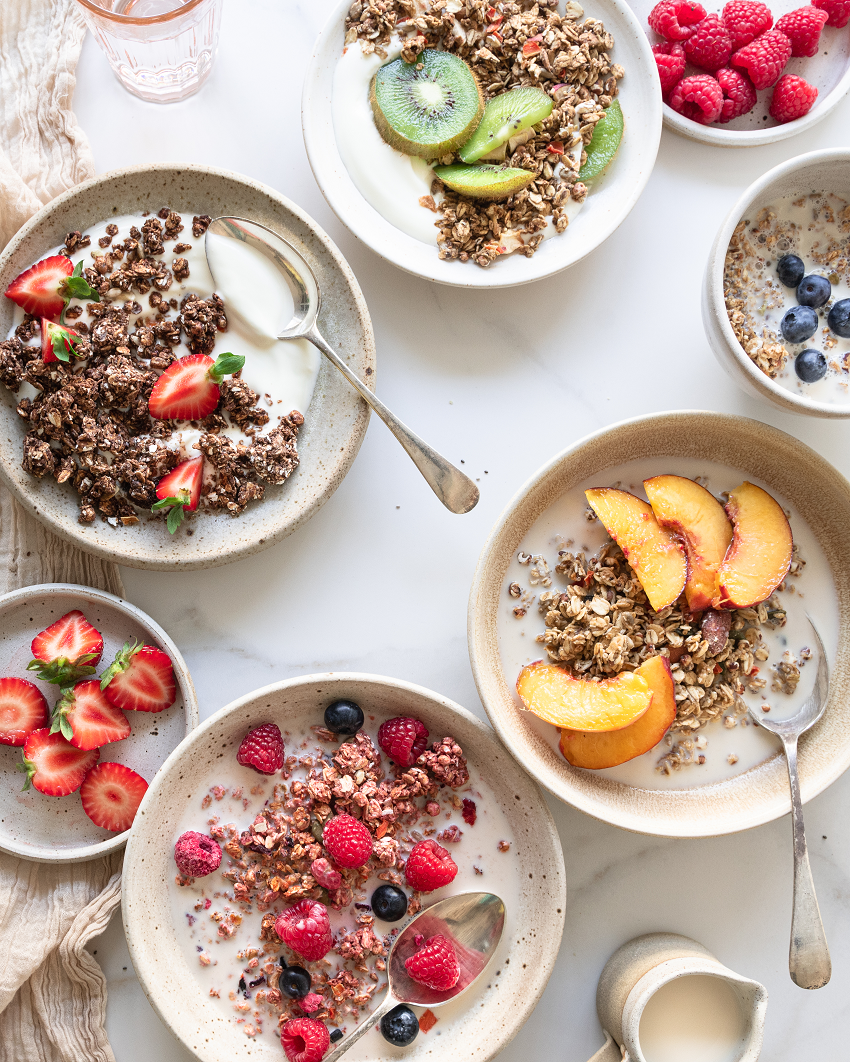 Gut health is revolutionising our approach to health and wellness. Looking after your gut is one of the most effective ways to enhance overall health and wellbeing. As a relatively new area for scientific research, taking care of your gut health can seem complicated and overwhelming – especially with all the misinformation and pseudoscience out there.
What is Gut Health?
The benefits of looking after your gut go way beyond the digestive system, as research has linked good gut health to the health of many other organs in the body, including your heart, your skin, and your brain. It's also associated with lower body weight, lower risk of heart disease, type two diabetes and many cancers, plus better mental health.
A bit of history
Founded by Dr Megan Rossi (The Gut Health Doctor) and Jon Walsh, Bio&Me is the UK's first dedicated gut health food brand backed by credible science. Bio&Me brings clarity and credibility to the world of gut health and is the only brand that carries the prestigious 'Good for your Gut' health claim, due to the EFSA-approved ingredients used. With a focus on Delicious Diversity, in November 2019 Bio&Me launched its first range of gut-loving granolas containing 15 of your recommended 30 weekly diverse plant-based foods and prebiotic* fibres to help your mighty microbes thrive.  Following on from the success of the granolas, the brand launched its gut-loving porridges and muesli in January 2021, further establishing its credibility in the cereals' aisle.  With a passion for creating accessible, great tasting, natural gut-health products, recent product launches from Bio&Me sees the brand in a strong position in the chilled category with its range of four, delicious prebiotic* gut-loving yoghurts, containing over 700 billion live and active cultures and the on-the-go market, with their 'just add water' plant-based porridge pots.  After all, they're on a mission to help make looking after your gut deliciously easy! Find out more at www.bioandme.co.uk

About Dr Megan Rossi, Co-Founder & Product Director
Dr Megan Rossi, The Gut Health Doctor, is considered one of the most influential gut health specialists internationally. A practicing Dietitian and Nutritionist for the last decade with an award-winning PhD in gut health, Dr Rossi is the co-founder of Bio&Me, bringing products that are genuinely good for your gut to market and empowering others to look after their health and happiness from the inside out. A leading Research Fellow at King's College London, Dr Rossi is currently investigating nutrition-based therapies in gut health, including pre and probiotics, dietary fibres, plant-based diversity, the low-FODMAP diet and food additives. She has also founded The Gut Health Clinic on Harley Street and her first book, Eat Yourself Healthy, an ultimate guide to gut health and beyond, which immediately became an Amazon and The Sunday Times Bestseller. Megan's second book, Eat More, Live Well, also came out at the end of December 2021. Megan has also been recognized as Business Insider's Top 100 Coolest People in Food & Drink and named Young Australian Achiever of the Year in the UK 2020.
Each Bio&Me recipe has been uniquely created by Megan to ensure they're good for your gut. Bio&Me's great taste award-winning Granolas, Porridges and Mueslis all contain no added sugars or salts, are high in fibre and use only whole, natural ingredients. For example, they're new Super Berry Granola contains a whopping 17 plant-based ingredients, including: raspberry, strawberry, blueberry, skin-on almonds, beetroot (that helps turn the milk pink, so it's perfect and fun for kids too), carrot, chia seeds, chicory root, dates, jumbo oats, lentils, linseeds, Extra Virgin Olive Oil, pumpkin seeds, quinoa, sorghum, and sunflower seeds. Another one of their key products is their on-the-go porridge pots, which come in 100% recyclable pots and are suitable for those following a plant-based diet.
The road to B-Corp
At Bio&Me, they aim to do business the right way.  This can be shown by their aim to become a certified B-Corporation, part of a global movement of people using business as a force for good, driving change and helping to solve world social and environmental problems.
"When building Bio&Me, we want to make sure we do business the right way.  For our consumers. Our customers.  Our employees.  And the Planet.  Hence why we will soon be a B-Corp." – Says Jon Walsh (CEO and Co-Founder)
The Bio & Me strategy
Event activations and street sampling have played a huge part in Bio&Me's strategy for 2022, attending 16 consumer and trade events up and down the country, including the likes of Big Feastival, CarFest, Taste of London, Barcode and Lunch! This included a three-week sampling campaign at the start of the year, handing out over 30000 breakfasts, targeting consumers outside key stockists and busy areas of London. This has allowed the brand to boost its awareness amongst consumers through a 'try-remember-buy' approach.
"We know it's important for people to sample our products to understand that they're not just good for your gut, but taste great too! Therefore our events strategy for 2022 has been key in driving this awareness and getting our product into the hands of as many people as possible. We will look to build on this approach in 2023 as the brand continues to grow" – says Michael Cheeseman (Brand & Marketing Manager)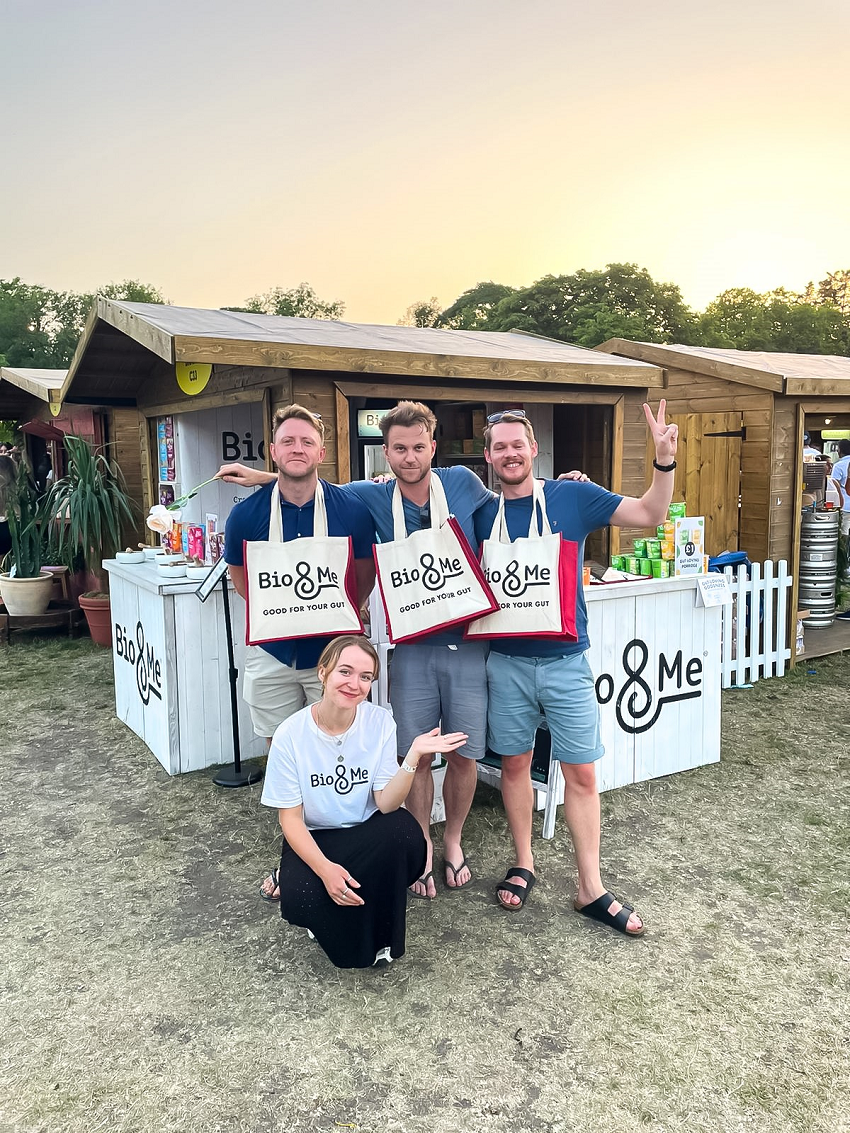 How To Stock up on Bio & Me today
Delicious Ideas Food Group supply snacks, confectionery and beverages including Bio & Me to thousands of sites around the UK. If you are a hotel, pub, café, co-working space, deli, farm shop or more, set up an account here and get wholesale deliciousness delivered to your site today! If you have any questions or just want to find out a bit more about our service, get in touch with a member of our sales team today on 01733 239003.